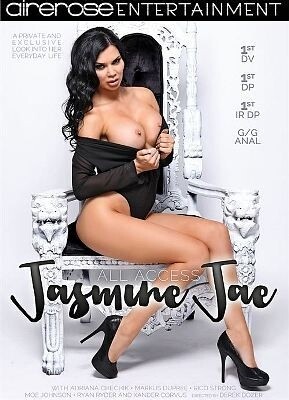 Here's a major slut for ya': Jasmine Jae. A brunette Brit (though her accent sounds way more Aussieland than Old Blighty) with huge tits (obviously augmented but, nonetheless, hard-on-inducing), an exquisitely painted mug as well as a fine round ass, and a relatively Amazonian stance at 5'8", the wench is showcased in all of her debauched glory, with her first double penetration, double vadge and interracial double penetration.
With her scenes interspersed with (thankfully) mini rather than epic interviews, Jasmine starts us off with her premiere on-screen double penetration, as surely a super tramp like her has done shit like this off-camera many times. Ryan Ryder and Xander Corvus have the honors of simultane-ass-ly porking her snapper and crapper, and double-jamming her sweaty twat (a DVP), with Jasmine also providing, as she does throughout "All Access," awesomely nasty deepthroaters.
There's also a sizzling girl-girl interlude with Jasmine and Adriana Chechik, the latter doing some squirting (filthy!) directly into Ms. Jae's seemingly always-famished gob; as well as a fun little rape fantasy, with Jazz gladly submitting to a thief, more like turd burglar, in the form of Russian chap Marcus Tynai, an ass-sailant who heatedly, repeatedly takes his victim's temperature the old-fashioned way, with his over-worked Land o' Putin prick.
But it's the pair o' bloods (or is it bleeds?) — with their massive, long, greasy mini third arms dangerously dangling 'tween their legs — who diabolically double-dunk jolly Jae, which really rounds things off quite nice and sleazily.
Jasmine Jae is so cock-greedy, with looks good enough to wanna fuck in the real world, that she carries off this strumpet spotlight with flying colors. And plenty o' flying jizz, as well!
Synopsis:
Airerose Entertainment is proud to present an amazing collection of firsts for the seductive Jasmine Jae! Her 1st double vag! Her 1st double pen! Her 1st interracial double pen and girl/girl anal!