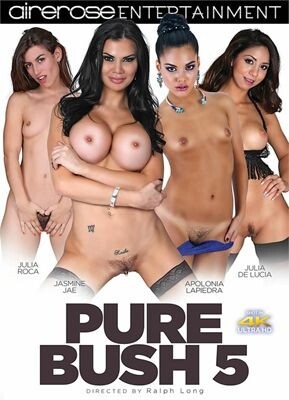 Three sweeties from Spain and one strumpet from 'cross the pond make this gonzo from Airerose Entertainment worth checking out, particularly the delectable, luscious young Euro whores Apolonia, Julia De Lucia and Julia Roca! — with Ms. Roca definitely having the furriest "bush" of all four tantalizing trollops.
Don't get me wrong, 33-year-old Jasmine Jae puts in a fine 'n' filthy performance. In fact, you absolutely wanna catch her over-the-top manner of sucking, inhaling, choking on the cockmeat of Alberto Blanco. And the always-up-for-sex Ms. Jae is fun to watch in any position.
But, let's get to the heart of the movie: Apolonia and the two Julia dames! I, actually, think that 24-year-old Ms. Lapiedra is one of the truly finest bitches I've ever seen in porn. Seriously. This wiry, all-natural, photogenic little sweetheart is a fine cock socket, both orally and vaginally. And I just love the way she occasionally groooooans; while you don't wanna miss her riding Ralph Long's Americano prick cowgirl style; her jiggling ass cheeks are simply mesmerizing!
27-year-old Julia De Lucia is probably the most passionate of all four ladies, loving every inch of her blowjob, giving Emilio Ardana a deep, luxurious, loving suck-off, while her doggie antics show how truly juicy this cutie is! Check out how those ass cheeks seem to have a mind of their own as Emilio back-slams De Lucia!
And the gonzo ends on a strong note, with gorgeous 27-year-old Julia Roca giving Long the ride (and suck!) of his life! What a body on this bitch! Who cares if she has petite tits?! They rock! —as do her meaty butt cakes! You can tell that she gives a killer blowjob, but she seems more interested in getting her cunt poked here than her face. Julia also has one of the nicest mounds of pubic hair of all of the ladies, which Long ultimately, dutifully soaks with sperm after a long, long (love it!) fuck.
While three of the girls here, excluding Ms. Roca, have well-trimmed pussy hair/muffs (or "bush", if you will), it's the animated and sincere bedside "manners" of the three above-mentioned Spanish strumpets which'll really get you off. Hey, if you dig pretty 'n' passionate Euro babes get furiously drilled and filled, then you won't wanna miss this one.
Synopsis:
Hot ladies that like to keep a nice little patch of pussy hair are here dying to show off!