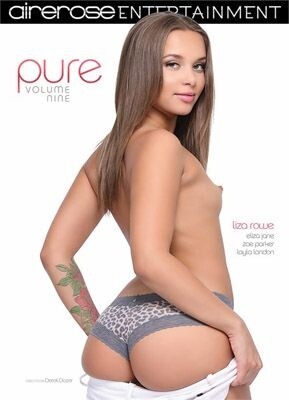 What's great about this gonzo from Airerose Entertainment is that director Derek Dozer — unlike many smut auteurs out there — knows how to properly utilize his performers, both boys and broads. That is, the males hump the brains out of this foursome of fine-looking young female specimens, with the studs not getting in the way, literally, leaving the action crystal clear, i.e., no limbs or paws (on precious slut butt cheeks) blocking the freaky action, which, in Pure 9, is constant and furious. Hoor-rah!
We're off to a wild start, too, with 23-years-young from San Diego, cute platinum blonde Eliza Jane, whose great ass and delicious puffy pussy Mr. Pete (yep, he's still doing XXX flicks) gets to feed (and seed) on. He, smartly, begins by eating Eliza's anus, as her perfect booty is standing, bent over; followed by a superb no-hands deepthroat, with doggie being particularly excellent, Petey boy really smacking that luscious ass, when he isn't greedily (we understand!) clutching her waist and pounding away. Yeah!
Brown-haired DVD cover model Liza Rowe — 20, from Florida and of delectable multi-ethnic roots — has a pretty face (augmented with braces!) and the sweetest spinner body you could ever imagine, with Tommy Gunn making her choke on his prick and then, just like pudster Pete, really wailin' away on this bitch's bounteous butt cheeks during doggie. Hell, she's great in all positions! Liza, by the way, is a moaner, who also likes to kiss. Awesome gal!
And while we are treated to some more heated action via Texan hottie Zoe Parker, as Anthony Rosano (and his strangely colored hair) hammers her honey hole silly — with some nice overhead shots of the backside action a la Parker — it's the penultimate scene with Layla London which is my fave of the lot. Despite her name, brown-haired, 23-year-old Miss London is not a Brit but a North Carolinian, who has a mind-blowingly scrumptious body (including a fantastic tan), complete with petty face, flowing big tits (not overly huge) and a truly jaw-dropping ass. Jay Smooth (who, despite his own misleading name, looks more rockabilly than rap) is the lucky bastard who gets the honors of pummeling this perfect-looking vixen. There's brilliant cowgirl action, with Layla's ass cheeks seeming to have a mind all their own, while you gotta check out her dizzying gyrating boobs in the doggie position. She's a new favorite of mine. Love ya, Lay baby!
Maybe I was way horny (isn't that why we watch fuck films, anyway?!), but "Pure 9" — again, thanks to director Dozer (who also humorously interviews the girls before each skewering segment) and his passionate team of on-screen degenerates, especially the foxy, fiercely fornicating four femmes — is one of the best wanking-worthy gonzos of 2017; and I mean from start to finish… if, that is, you can get to the "Pure 9" cunt-clusion without blowin' yer load there, son.
Synopsis:
Youthful beauty in its finest form. See another group of sweethearts anxious to hop on a nice big dick and show it all off for the camera!