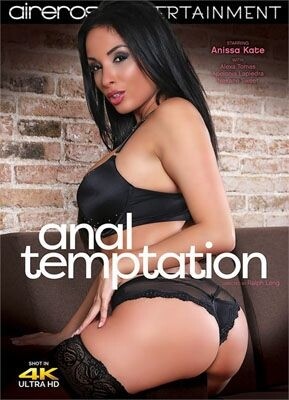 Four tasty Euro babes take it up (way up!) the ass in this Airerose Entertainment gonzo, with high buttfucking points going to Apolonia Lapiedra, Alexa Tomas and Anissa Kate.
Apolonia Lapiedra, 24, from Spain, is a gorgeous brunette, with a killer bod and intense pair of big, liquid eyes, who passionately — via throat, vadge and colon — takes on the very lucky Pablo Ferrari. All the girls give short and sweet interviews (all of which, except for English-speaking Anissa Kate, are equipped with subtitles) prior to their potent pummelings. Beautiful and perfectly-sculptured/bronze-bodied Apolonia talks about how she "makes mayonnaise" from males with her horny moves, swiftly putting her words to practice with Pablo as she spits/chokes on his cock and, after doggie and cowgirl anal, lets him anal-ize her in the spoon position, with her awesome nipples and priceless posterior looking positively amazing. And observe how she skillfully, sluttishly sucks Pedro off to a spurting finish. Definitely watch any and every movie in which this delectable doll stars.
Next, foxy 25-year-old Spanish Nekane Sweet has big tits, but they're natural and astoundingly firm, with Ralph Long sucking those bad boys with visible pleasure, before giving her the anal (for a bit too short a time, actually) and vadge treatment a la cock. And check out how luscious piece of ass Nekane expertly rides Ralphie cowgirl style. Damn!
Next to Apolonia and Anissa, another highlight is Alexa Tomas, 31, also from Spain, who nastily hooks up with Joel Tomas (don't know if they're related or not), displaying a nice deepthroat technique (look at those delicious nipples hanging as she sucks!), while she and Joel spend a lot of time working on intensely pud-probing her shitter in the doggie position. She's a screamer, too!
And we come to quite a freaky finish with Algerian Anissa Kate, 29, born in Lyon, France, who, like Nekane, displays another pair of large, all-natural boobs, while this bawdy brunette with the sleepy-eyed slut look simply can't get enough dick up her dung ditch. Ralphie Long gets to dominate her chocolate starfish spoon style at one point, hornily shifting his prick back and forth between her twat 'n' tukus. Love it, too, when she rides him cowgirl and lets Ralphie take cunt-rol, with everything ending in a fab creampie of Anissa's steaming slit. She is the shit!
Hey, if you enjoy viewing sexy — and in some cases downright beautiful — salacious Euro broads getting their culos crammed silly, then you're gonna absolutely adore "Anal Temptation." Dig in!
Synopsis:
You can only resist the urge for so long... And when the woman is as fine and willing as one of these babes... You've got to get a piece!