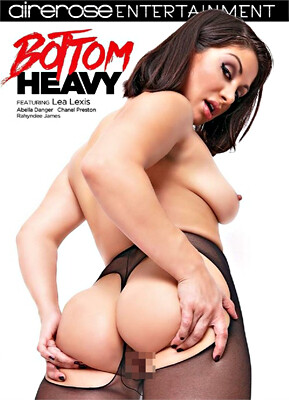 Girls with big, juicy asses show off those same backsides for us (care of the fine folks at Airerose Entertainment), with anal and ATMs (hallelujah!) appearing in two of the four salacious segments.
And if you want widescreen derrieres, then you definitely wanna go straight to darling, dirty lil' Abella Danger, who lets Manuel Ferrara fuck her slit then her shit. But not before mouth-fucking the hell outta her. Abella's still one of the best BJ artistes out there, sucking Manny meat while our Parisian pudster oils up her ass cheeks and fingers her fanny hole. Such a killer body on Danger. Soon enough, Manny goes straight for her vadge via doggie, then spoon, before Abella thrills us with that choice, luscious ass during cowgirl. Then it's hit-the-shit time, with spoon anal, standing-doggie buttfucking (with an ATM chaser), regular doggie anal with Abella on her knees, more spoon, then missionary pooper pounding (and another ATM), some 69, amazing cowgirl crap snappin' (with Abella's cheeks bouncing all over), reverse-cowgirl in da booty, then, eventually (blatt! blatt! blatt!) Danger taking a big wad o' Ferrara frosting in the kisser.
Next, Rahyndee James might not do anal, but it's a joy watching her bottom heavily shake under the penile guidance of Derrick Pierce. Rahyndee, actually, reminds me a bit of Jewel DeNyle ('member her?), with Derrick doing doggie right off the boner bat, while Ms. James really gets her rump rocked (jiggle, jiggle, jiggle) during cowgirl. She's a pretty good suckette, too, going down to the base o' that boner when she can. Nice tits on the bitch, as well. Reverse-cowgirl is shot as cowgirl, so it's a tush treat, followed by more deep doggie, with Derrick dumping a stream o' semen across that amazing ass. Yeah!
Surprisingly, Romanian raunch queen Lea Lexis doesn't take it up the kah-kah, but it's still a thrill to see a big lug like Bruce Venture bang her booty (but not her fudge factory) silly. She's another terrific deepthroater. Damn, does she go deep! Cowgirl gives us some amazing ass-gyrating movements a la Lexis, as does spoon (with Bruce spanking Lea's bodacious butt to a candy-apple red), while doggie is a pure revelation with our big-bootied broad from abroad. Venture even (understandably!) doggies her twice, really sinkin' his sinker into that pinker, while he gets another groove going with her ever-gyrating ass cheekies. I'm amazed, though, that Brucie doesn't pop his wad during one of Lea's superb suck-off moments, saving the money shot for mish vadge. Yes, she's that good of a BJ artiste.
Lastly, we end with a bang — and another ass-fuck — as the always-welcome Chanel Preston gets her diarrhea ditch duly damaged by the Russian love stick attached to veteran pudster John Strong. Chanel loves to deepthroat, happily gagging, choking, coughing up spittle, while lending lots of marvelous eye contact. Wow! Look at all o' that loogie! Cowgirl vadge is awesome, what with Preston's killer ass cheeks, and she really knows how to ride that rod. Her shit chute is soon savaged spoon-wise, with Strong really burying bone up that bungalow, before switching her around to give us an even better view of the spoon sphincter skewering, with Preston living to suck off her own shit juices from his crap-soiled cock. She adores it! Dirty fucking whore! We love her! Then it's reverse-cowgirl anal, with John boy really goin' Strong, while we're treated to a fine view of meaty Preston pussy. She cleans off his prick, soon getting John-John off, with our Rouskie blasting ball batter into her puss. Yeah!
"Bottom Heavy" is topnotch, with each lady putting in potent performances with their positively pound-worthy posteriors. Just wish we had some doggie (vadge and/or anal) with perverted Preston. But Chanel is just so depraved and submissive, her sequence is still, even without straight-on doggie, one of the movie's truly shining hammer-the-bottom-heavy-ho moments.
Synopsis:
Girls with big, juicy asses show off those same backsides for us (care of the fine folks at Airerose Entertainment), with anal and ATMs (hallelujah!) appearing in two of the four salacious segments.