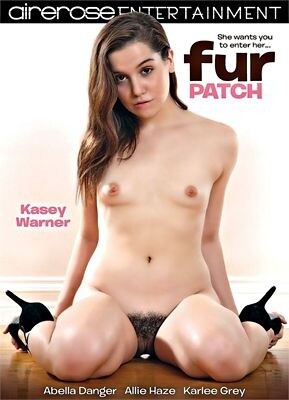 Some of us guys do, indeed, like bush. As long as the pussy is good 'n' clean, who cares if there's some hair crowning it? — or, better still, a lot of it. Use a toothpick if you get a pube (or two) 'tween yer teeth. That stated, each of the four ladies in "Fur Patch" look fab and perform splendidly — fuzzy cunts and all.
After a slow and sexy dance, the pretty Allie Haze gets down with the over-exposed trouser weasel attached to Austrian gent Mick Blue. Ms. Haze has a little baby fat around her belly, and it looks great to me. We can work around it, right guys. Good to see, too, that she sucks cock deep and nasty, to the base o' that fuckin' boner. Good girl. Her luscious ass cheeks react with horny animation during cowgirl. And she just keeps on gaggin' on dick any chance she gets. Doggie, by the way, totally rocks. Where have you been, Allie? We've missed your sweet ass. Literally! And it's not long during missionary that Micky's dicky coats Allie's bush with batter, with Haze grabbing a bunch of it and cunt-suming the jizz, but not before a few more sucks o' that Blue bone. One hot bitch! Allie, not Mick.
Next, curvy Karlee Grey takes on — along with her own "fur patch" — Danny Mountain with absolute gusto. I love it, by the way, when Danny boy sucks Karlee's anus early on. A damn good start. She's also another marvelous cocksucker, going all the way down on that wrinkled sax. Cowgirl a la Karlee is one of this gonzo's true high points. I mean, what a cushy tushy! Spoon gives you a good view of that hairy section above her cunt, with her deliciously big, all-natch tits wondrously swirling about. Doggie is another highlight, with Mountain sticking a finger in her anus, as(s) well as holding her hands behind her back and slamming that ham like there's no tomorrow. And our man from Manchester soon blasts all over this tasty slut's mouth after he bores her cunt mish style.
Even though Kasey Warner doesn't have any makeup on here, I'd still fuck the living daylights outta her, which is precisely what lucky Evan Stone does. Like all of the gals featured, Kasey pulls on her bush just to let you know that, yes, this mound is 100 percent real. I like how she sucks Stone's bone upside down, the blood-swollen worm going way down that gullet. Yeah! And Kasey is all over that dick with her cunt, maneuvering her body with awesome flexibility. I also dig how much spit she produces during her super sucking efforts. Stone does a good job of keeping up (figuratively and literally) with the spirited Warner. And, yes, Evan blows boy bleach all over that muff after a sweaty session o' mish.
And slut princess Abella Danger marvelously rounds off (in more ways than one with that juicy body!) our quartet o' hairy quim. Long-haired stud Chad Alva laudably makes sure Abella really chokes on his chicken. Repeatedly! And the whore loves it. She also digs getting her throat choked during doggie. And, of course, the ever horny Abella just can't help but roll her eyes in the back of her skull when getting heatedly banged every which way. Alva ultimately jettisons jam all over Danger's finely trimmed mound, with the torrid tramp eating a handful of the splooge. Good girl!
For you guys who like a hairy twat (none of them are overgrown, so muff meisters be forewarned), yer gonna love these four furry foxes expertly caught by the Airerose team in salacious action.
Synopsis:
Some of us guys do, indeed, like bush. As long as the pussy is good 'n' clean, who cares if there's some hair crowning it? — or, better still, a lot of it.