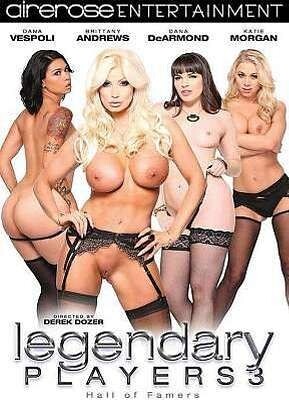 It's totally subjective whether or not these four veteran female porn stars are "legendary" — all of 'em either in their 30s or 40s. But, as this third installment is part of director Derek Dozer's "Legendary Players" series, we're calling 'em legendary, whether you agree or not! This title, however, is a good one for couples, in that — while you have typically nasty, ass-eating, anal- and DP-minded tramps like Dana Vespoli and the usually awesome Dana DeArmond featured — there's no in-yer-face freakishness, but certainly enough action to keep all interested parties aroused.
We begin with Katie Morgan, now in her late 30s, whose body looks terrific and (if you overlook that incomparably annoying squeaky voice of hers, in full force during her pre-fuck interview) offers a slow, steady but no less lively screw, although she needs to cum up to speed on that sizzling (arghh! gasp! choke!) cock-gagging technique the ladies practice these days. You can do it, Katie baby!
Brittany Andrews is really the quintessential platinum blonde-bitch o' porn, always seeming rather finicky (here she's the only female who, go figure, performs with a condom), making you all the more eager to see the diva get the living shit slammed outta her. That 24/7 work horse from Austria, Mick Blue (does this mother ever take a break?), has the honor of penetrating this well-pampered piece of vadge, who, even at 43, is still quite fuckable, despite (or because of!) her underlying uptightness.
The movie roars to its cunt-clusion with the always-worth-watching Dana DeArmond who, being a true whore of the 21st Century, gags on cock like it's her last-ever, while riding prick as if it's similarly the end of the world. And you can tell — especially from the way she flashes, wiggles, spreads her anus towards the camera — that she's dying to get her butthole plugged by some, any cock in the room. Sorry, Dana honey (you scorching piece of vintage ass, you!), gotta wait until you finish yer "Legendary Players" scene.
If you wanna see what the semenly gone, but definitely not forgotten, whores like Katie Morgan and Brittany Andrews have been up to — and if they can still suck/fuck — then tune into "Legendary Players." Curious stuff, indeed.
Synopsis:
More hall of famers here with their eager asses in the air and their pussies nice and slick with nectar.