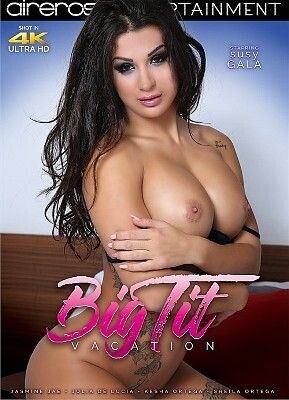 In "Big Tit Vacation" you get lust bunnies from England, Spain and Venezuela, all of whom have, as the title more than subtly implies, big jugs. And in four scenes, we have a total of five women, making that 10 tits altogether; all of which are augmented, by the way. Still, each lady is worth catching because of her whorish behavior.
And we start with London hussy Jasmine Jae, who takes on some schmoe named Alberto Blanco, which really is of no consequence to a raging slut like Jasmine: Just give her a dick and she's happy… or even a bunch of 'em… doesn't matter to whom it's attached, either… Jazz just wants that cockmeat! Here, too, she's a superior cock-gagger, and it's just a turn-on seeing this big-boobed/big-butted bitch get so turned-on in the midst of her porking.
Julia DeLucia, a bespectacled babe from Spain, reminds me (in the face) ever so slightly of a younger Mira Sorvino (check it out), and has a relatively more quiet approach to her sex, in this case with the pizza guy Emilio Ardana, who gives her twat and tonsils a fair share of pepperoni, before spraying his own brand of mozzarella all over the sweet-looking strumpet.
My favorite of the lot, though, is fantastically built, very pretty (the DVD box cover doesn't do her justice) Susy Gala, whose boob-job is definitely the finest in the movie, looking fairly natural, while her taut body is amazing, including a perfectly shaped, meaty (but not overly so) butt. Lucky fuck Ralph Long gets to hammer this hottie, who doesn't at all mind kissing, and has a somewhat sleepy — making it all the more horny! — approach to her sucking and fucking. Love this bitch.
Lastly, we have two gals, the Ortega's, from Venezuela who have the same last name and look somewhat similar; yet, while they may or may not be related, they do, indeed, kiss, munch on each other's pussy and even finger one another's anus at various points in their animated threesome with the returning Ralph Long. I also don't know which Ortega is Sheila and which is Kesha. I do know that the one whose butt cheeks are not blemished is the more passionate, sexier of the two trollops. But, still, both twats fuck and suck with true gusto.
Airerose Entertainment definitely did a good job of choosing the female talent here, since the stacked sluts are just that — sluts!
Synopsis:
Take some time off to really enjoy yourself, and be sure to bury your face in an ample pair of juggs while you're at it!