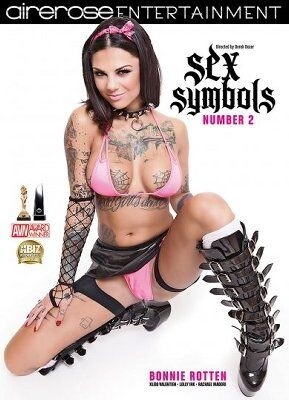 Sometimes one performer's presence can lift a whole movie and this is one of those times.
Bonnie Rotten has become a larger-than-life sex star that delivers as bankable a scene as there has ever been in porn. And a performance like this ought to be a collector's item because we will not be seeing many more of them. Rotten recently stepped back from performing to focus on her career behind the camera.
One of her parting gifts comes just 11 minutes into the movie, when she is already squirting a geyser because she's so turned on from Marco Banderas' first round of thrusting. We should've known from watching Rotten do her opening tease in front of a swimming pool with fountains squirting water in opposite directions that it was a foreshadowing of things to come.
During her pre-scene interview Rotten also describes the endorphins and the sweaty palms she always has from getting a tattoo. The feeling reminds her that "I didn't just pay for it, but I worked hard to for it too."
Then it's right to work on Banderas' prick with deep-throating, loud slurping and a quick round of pussy sex before it's anal the rest of the way in a major-league boff.
But there's so much to see in "Sex Symbols 2."
Kleio Valentien reveals she's been fingered while getting tattooed.
"It almost dulled pain of getting a tattoo," she recalls. "It was very cool and very weird at the same time."
Her first tattoo was a little heart and crossbones on her shoulder blade and she got it on her 18th birthday. Ramon Nomar power-fucks her, stopping to finger her asshole enough to coax a pussy squirt. Their standing cowgirl is a wonderful sequence.
Lolly Ink also got her first tattoo the day she turned 18, explaining that tattoos are memories.
"You go through an experience or a time in your life and it kind of like stays with you, that memory," she says. "… Back then when I was going through a hard time that was my way of releasing pain and emotion."
Cue Bruce Venture, who slams her clam in vicious fashion.
Rachael Madori, who coincidentally also went for her first tatt on her 18th birthday, seems quite happy with everything Mr. Pete does to her in the entertaining finale.
Synopsis:
We are proud to present the women your mother warned you about in four electrifying XXX scenes! Here's your chance to get to know these stars!