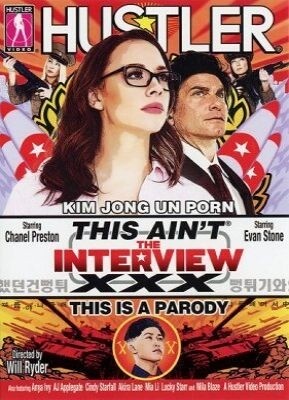 In this Hustler Video parody of a parody — namely the underrated 2014 political satire/comedy "The Interview" from directors Seth Rogen and Evan Goldberg — you don't get the rib-cracking humor of the mainstream movie, but you do get some solid hardcore sex, which is precisely what the mainstream movie doesn't have.
This XXX satire (of a satire…got a headache yet?) has Dennis Rodman (played by Jovan Jordan), the real-life fanboy of North Korean dictator Kim Jong-un, pulling a few strings to get TV exploitation-show host Dave Skylark (Evan Stone sporting a really bad wig) and his producer (the ever-sizzling Chanel Preston in the Aaron Rapoport/Seth Rogen part) flown to North Korea to do an exclusive interview with Kim Jong-un, with, once again, a few sexy results.
To start the ball rolling, before heading to Asia, Stone hammers his foxy black production intern (Anya Ivy), who not only has a perky attitude, but flaunts a righteous pair of all-naturals and juicy twat, all highlighted best in the missionary position. It's actually one of the movie's better lust interludes. There's also a somewhat horny girl-girl tryst between Preston and A.J. Applegate (playing a CIA agent who tells the Stone/Preston team to first expose Kim Jong-un as a guy who isn't a god but a mere mortal — crapping and boning like anyone else — and then to assassinate him, which they agree to do).
The remainder of the story takes place in North Korea with the best scene — probably in this entire mediocre porno! — being a threesome between one lucky American cameraman (Alec Knight) and two of Kim Jong-un's way-hot, suck-/fuck-hungry female security guards (Mila Blaze, who's actually a Latina but passes off fairly well as an Asian, and the extremely luscious Akira Lane, finally doing one of her very first boy-girl scenes).
There's also a rather unsatisfactory oral scene between Stone and Korean propagandist Suck-Me (porn babe Cindy Starfall doing a bad acting job in her killer-whore's body), with only Stone sucking her pussy and not even getting blown.
And the final 'orgy' scene is really just a pair of back-to-back threesomes, with Stone finally finishing what he started with Starfall, while Jordan gets it on with petite/round/curvy Mia Li with the help of Chanel Preston, who only sucks off Jordan but does a fine gaggin' job of it. Also disappointingly, Mia Li's bangworthy body and slutty talents are far from utilized at full bore here.
With only a couple of potent sex scenes and an almost complete waste of Mia Li and Chanel Preston (the latter not even getting properly porked by a cock!), "This Ain't the Interview XXX" is worth checking out only for the novelty of it all — and a somewhat funny/bizarre climactic twist at the tail-end of the actual interview between Skylark and Jong-un.
We recommend sticking to the original Hollywood film, which, even without the okay sex, is ultimately far more satisfying than this (intentionally or unavoidably?) cheesy Hustler version. Maybe they'll eventually include this XXX parody (of a parody) as part of a special-features package on the actual mainstream title. Now THAT would be cool!
Synopsis:
Kim Jong Un porn! North Korea doesn't want you to see this! Find out why!