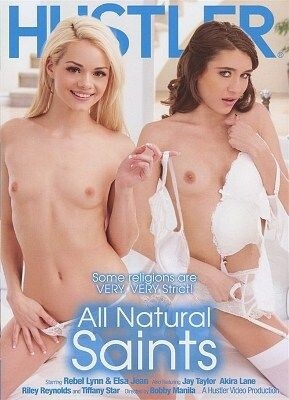 Tommy Pistol and Ryan Driller play a couple of con-men who run a fake religious cult that preys upon cute, impressionable young women. They give them "access into the land of holes."
Pistol is robed and nutty as he conducts "the ceremonial cleansing of the male toes." Rebel Lynn in the first scene goes along with the joke. "I have come on you and I walk away, with the cum on your face," he chants.
Pistol and Driller seem to be doing two-handed improv, and when it works it's really funny.
Ryan has fun "punishing" Jay Taylor by lightly spanking her cute white butt. Tommy tells Tiffany Star, "Your name was picked out of the holy hat" for Seeding Saturday," then guides her through a silly ritual. She is very cute and plays along with Pistol nicely. He creampies her: that's the seeding.
Ryan tells Tommy that Elsa Jean is "now of age" and ready for the "welcoming," which he means to perform himself. Tommy is not happy about that, so they compete, and Ryan wins.
"We are very focused on love and genitals," Ryan tells Elsa. The seduction scene is both humorous and erotic, like the rest of the movie.
Synopsis:
Nothing is sexier than having an all natural girl comfortable with her looks and dirty as can be. These young women know they are hot and get whatever they want. One look from these natural babes and your guaranteed to get instantly hard!