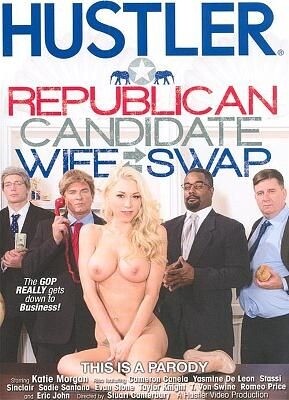 Hustler Video pokes fun at Republican politicians running for the presidency, albeit with a candidate lineup that's now a touch dated — Donald Trump is the only one out of the five candidates who has yet to drop out of the rat race. Nonetheless, in this Stuart Canterbury-directed feature, five political gents decide, after a debate mediated by Katie Morgan (portraying FOX's Megyn Kelly), to engage in a little wife-swapping, with some heated results.
Actually, the very first sex scene between exotic-looking Camera Canela (playing Mrs. Jeb Bush) and Evan Stone (as Trump himself) is one of the best in the movie, with Canela being ever so passionate as she deeply sucks dick and takes Stone's bone way up her dripping clam.
Another good scene has Romeo Price (playing Jeb-a-roo) getting it on with the very appealing, if little-seen, Stassi Sinclair, who, despite her somewhat distracting tattoos, is a good sucker/fucker, appearing to really love her newfound profession.
Fans of blonde Katie Morgan will enjoy this 36-year-old power lover, and her incredibly taut body, getting it on with Taylor Knight, here playing Dr. Ben Carson, who does a fine job of making Morgan's voice go even higher than usual with his deep, steady penile probing.
I do wish that the awesome-looking Yasmine De Leon, playing Mrs. Carson, didn't just get her pussy eaten by New Jersey governor Chris Christie (in the form of Tim Von Swine), with De Leon going for some masturbation afterwards. I could've used some full-fledged fucking and sucking!
Making up for this minor short-cumming, however, is the scene with Rick Santorum (played by Eric John) laying some pipe on a wet and horny hooker (Sadie Santana) in a no-tell motel. Good stuff, with Santana delivering a nice suck-off.
While there aren't any anal scenes for butt-ficionados, "Republican Candidate Wife Swap" does have plenty of whackable moments to recommend it.
Synopsis:
Republican Candidate Wife Swap: The GOP really gets down to business.