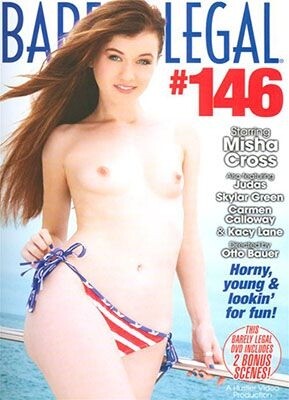 Rather than a bunch of separate, unrelated stories, this "Barely Legal" installment takes place on a yacht, with a bunch of pervs convincing a handful of fetching to downright gorgeous gals —like Kacy Lane and Misha Cross — to have oral/vaginal sex with 'em.
Actually, we're off to a pretty horny start with the very ethnic-looking Judas taking on Derrick Pierce, who plays the ship's bent captain. Judas might not possess classical good looks, but, damn, she sincerely enjoys getting porked, is a highly successful dirty talker and laudably lends much energy here.
Like Judas, Skylar Green — fucking the yacht's cook, played by Scott Lyons — is also animated and willing to please, if not an "A" girl. And she's a particularly good cocksucker!
Third up, we have our first classically pretty girl, Carmen Calloway, taking on Marco Banderas, pretending he's the ship's doctor and, thus, 'examining' Carmen from head to toe, and getting some head in the process, as well as a searing bit of a fuck, seeing as Calloway's quite the little firecracker.
But I especially fell for the lovely — and totally underrated! — Kacy Lane, one of the sweetest of porn babes, here paired with first mate/lucky bastard Eric Masterson. Kacy's not only the movie's best cocksucker — she's determined, focused, nasty — but also one of the best fucks, particularly in the doggie position. She's a girl with whom you'd easily fall in love. Wonder if Masterson even remotely felt the fever here…
And we end on an equally high note, with the always impressive, beautiful Misha Cross, coupled with odd-looking Ike Diezel, playing the yacht's handy man/second lucky bastard. And awesome Misha doesn't make one bad move. Pity this anal princess doesn't get her rump humped here. Oh well…
Yep, "Barely Legal 146" has numerous strong scenes, but Kacy and Misha definitely take the BL cake!
Synopsis:
Horny, young and lookin' for fun! Watch young pussy being exploited in the best of ways and take hard cocks like experienced filthy sluts. No man says no to these tight cunts!