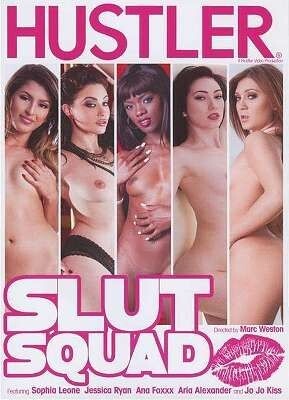 "This is my gang… We are here to celebrate our bodies…"
So says a female voiceover about the Slut Squad.
Sophia Leone, a pretty Latina, is crushing on dim bulb handyman Aaron Wilcoxxx. She seduces him, and he manages to relax and enjoy it.
Jessica Ryan runs a well-stocked sex shop. Her tryst with Richie Calhoun is interrupted, for some reason, by a former boyfriend who says he still loves her. After she gets rid of him, Richie strips her, spanks her pussy, gives her a standing finger-fuck, and finally comes on the crack of her ass.
Cute young Jo Jo Kiss is "a little firecracker." She meets boyfriend Jake Jace surreptitiously and fucks him on the patio.
In the hottest scene, career woman Aria Alexander meets Derrick Pierce outdoors after dark and hands him a wad of cash. He fucks her hard and makes her scream, but when he tries to get intimate post-cumshot, she demurs. For her, sex must be a business transaction.
Ana Foxxx takes on a wanna-be cop in the back room of the sex shop. It's a real wham-bam-thank-you-ma'am, but even a little bit of lovely Ana is a good thing.
Synopsis:
Armed with their secret slutty weapons, the Slut Squad must band together with other women to battle sexism and girl-on-girl hate! They are taking back the word 'slut' to mean truly pleasure-seeking women, and anyone who puts them down will be sorry! They are a shining beacon of hope in a world where women fight for their right to have lots of awesome hardcore sex without shame! They are....S.L.U.T. Squad!