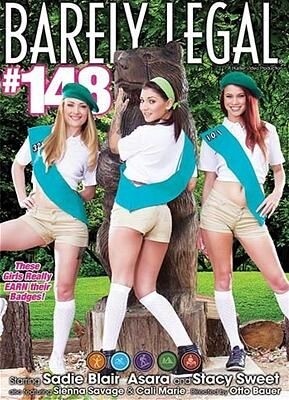 The "barely legal" babes in this volume are dressed in what look like girl scout outfits, as they display (via example, to various older cocks) the joy found in being generous to one's fellow man; more specifically, the erections and consequent ejaculations gained from being charitable with cake hole and cunt. Actually, each one of the five fresh tarts has something to recommend them in terms of rocks-off viewing pleasure.
Stacy Sweet, for one, lives up to her name, being ever so cute and, subsequently, giving Ryan Driller a happy face (and drained penis) in the great outdoors (which is where all of the episodes unfold, by the way). We just love Stacy's darling smile! And that yuuuuge inviting mouth? Whoa! Bruce Venture (bastard!) totally lucks out getting hooked up with the awesomely fuckable Sadie Blair. What a bod! —on Sadie, not Brucie. And sexy Sadie knows how to use it, too — her body… and Brucie. And then there's the rather exotic-looking/-named Asara, who, with juicy figure and hungry mouth/twat, hornily pulls the trigger on Tommy Pistol.
But wait, we're not done yet… Sienna Savage seems a bit distant at first, but fully rises to the suck/fuck occasion, causing Derrick Pierce's veiny dirk to fully rise and plentifully gush (and pierce). Lastly, we come (indeed!) to my favorite slut of the batch: the marvelously hot-to-trot, wildly luscious Cali Marie, who's reclined outside on a bed mattress (!) and just itchin' to get plugged. Dick Chibbles (what a name!) swiftly services the steamy whore, and check out the great natural tits on Cali! She's just so into her reaming, too!
All in all, "Barely Legal #148" is fab fornication fodder. Enjoy the darling young bitches!
Synopsis:
Young, hot and out of control! These barely legal sexpots have the eager beavers ready to please in every scene! Sucking, fucking and everything in-between, the hardbodies that just won't quit light up the screen with their perfect tits, rock hard asses and pretty young faces! Don't worry, you won't need to ask for ID - they're 'Barely Legal!'