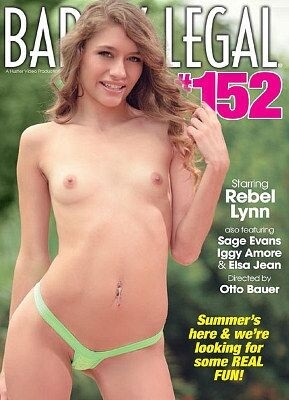 With minimal emphasis on cobbling together storylines (which is fine by me, truth be told), "Barely Legal #152" is highlighted by a foursome of sweet young things; in particular, the tasty Elsa Jean and Iggy Amore, both of whom strongly bookend the movie's quartet of sex scenes.
And, naturally, that's not to take anything away from Rebel Lynn (the cute 19-year-old DVD cover sweetheart) and Sage Evans (a 20-year-old fox from Iowa), both of whom perform marvelously in their respective scenes. Lynn gets it on with her sister's bald boyfriend, Will Powers, when sis is away on business, with Billy boy really going to town on this awesomely thin-as-a-rail babe, who most certainly knows how to use tongue and twat. Same for Sage Evans, who winds up sluttily sucking/screwing the slightly maniacal-looking Ryan Driller after she crashes on the sofa in his 'bar' (which looks more like someone's living room).
But it's 20-year-old Ohioan Elsa Jean (what a great name!) and our other young Ohioan, 19-year-old Iggy Amore (another terrific nom-de-smut!) who seriously got me off. Elsa hooks up with the odd one, Marco Banderas, after the two briefly meet at the their condo's pool (how like life!), with lucky-ass Banderas really going to town as he fills up the tender, fresh holes (except, shucks, the asshole) on Elsa, who's one of the very best-looking spinners in porn today. Iggy Amore, toiling away in a garden, sees old lecher Evan Stone sneeking a peek at her, while also stroking his wrinkled sax, from his first-floor window; after which she simply climbs through his window, and sucks and fucks him silly (how also like life!), with cute lil' Iggy trying her best to stuff Stone's bone in her trap. Love it! And check out Amore's marvelous butt cheeks simply fly all over the friggin' place in the doggy position.
"Barely Legal #152" absolutely has a strong selection of young ladies (again, with high points going to Mademoiselles Elsa and Iggy), who, for such young thangs, know their way around a prick. But what's with that irritating, high-pitched buzz/techno glitch throughout the whole movie? Hmmm…
Synopsis:
Summer's here and we're looking for some REAL FUN!