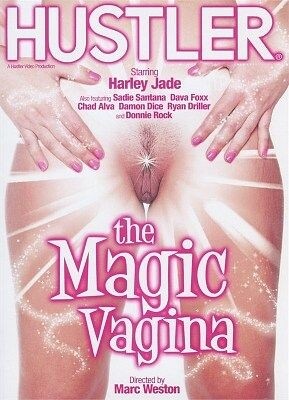 Apparently Harley Jade (22, from Boise) has a "magic vagina" which, once a guy fucks it, makes him wanna fuck it again and again and again. Hell, isn't that the way it always is with a good-looking woman who doesn't talk too much? Oh, yes: This magical cunt also glows and has glitter on it. Hmmm… And while this somewhat humorous feature starts off simple, the 'plot' eventually starts getting way too complicated for its own good and kinda-sorta spins outta cunt-rol. But, hey, forget about all o' that shit. Just focus on the two scorching scenes spotlighting hot-to-trot Harley and you'll be a happy whacker.
Dava Foxx (love the glasses) does provide a pair of fairly horny boy-girl scenes, while Sadie Santana proves herself a fine slit-licker alongside our star Harley, but it's Miss Jade who takes the fucking (and sucking!) cake here.
In her scene with Chad Alva, Harley mouth-massages a mean prick; while her very underrated, all-natural, rather lush body is nicely photographed by director Marc Weston; with Harley really going to town here in the cowgirl position, letting her butt cakes wail like mad. And she's frequently flashing that terrific smile (check out all o' those teeth!) during much of her amok time with slime. Bless her.
Harley's also more than elated to burn Damon Dice's boner to ashes, really X-celling in the doggie position, as Dice (excellent as a self-absorbed bonehead) knows just how to make those paddy cakes fly, with Harley, as usual, glowing (not just her cunt, either) whilst getting her honey hole seriously slammed via ham.
The Magic Vagina is a fun movie (to a point), good for couples (nothing crazy), while it even provides some heat for hardcore viewers (can't get enough of that Harley Jade, Jake!).
Synopsis:
All women posses The Magic Vagina. It's truly a canal of pleasure and joy. Such a slit should be given to all so everyone can experience the magic of the vagina!! Oh how The Magic Vagina is a gift from the gods!