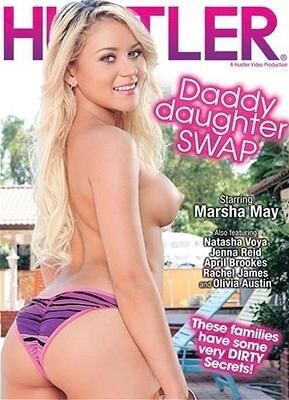 Young ladies wind up hornily servicing their girlfriends' fathers in this offshoot of Hustler Video's own "Barely Legal" series — with all four of the boy-girl scenes definitely worth catching.
Asked by her girlfriend to cheer up the same friend's depressed old dad, the slim, wiry, alluring Natasha Voya certainly makes an older man (Alec Knight) feel very happy… or does she make a happy man feel very old? Anyway, Voya possesses such a wonderfully sleek body, it's a thrill to behold her perform in any position, of which there are (whacka, whacka) quite a few here.
Next, in one of the movie's true highlights, DVD cover girl Marsha May gets it on with her gal pal's dad, Brit stud Tony DeSergio, by poolside, in a scorcher of a suck-/fuck-isode, with May's juicy body (get a load o' that meaty butt!) really making it all worthwhile. And May's amazingly low-key but effective seduction talents, cute California-blonde face, and round-'n'-ready-to-get-pounded pooper all make it one showstopper of a scene.
Another winner is the Jenna Reid sequence, in which this curvy, lush-bootied brunette gets down and dirty with her girlfriend's photographer "daddy" (Dick Chibbles), while she's posing for dear old horny dad in his studio. Jenna has an incredibly luscious, fair-skinned body positively made for porn, especially when she's bent over in the doggie position. She also (hear, hear!) delivers the best cock-choking scene in the movie.
Tattooed slut April Brookes shows off her own doggie-style talents as her friend's pop, Derrick Pierce, does, indeed, pierce the heck outta her. Brookes is a wonderfully groggy, sleepy, stoned-looking trollop, who progressively gets more and more into her poolside porking. A true turn-on.
Yep, all of the young ladies in "Daddy Daughter Swap" look terrific, as well as suck and fuck superbly. And while the final scene — a girl-girl outing with older, bronze-skinned, succulent Olivia Austin and younger, thin-as-a-rail-but-possessing-a-nice -pair-o'-ass-cheeks Rachel James — may be a touch out-of-place, it's still worth witnessing the delicious, filthy Miss Austin intently lick horny little Rachel's sweet, young, twitching anus.
Synopsis:
Daddy Daughter Swap - These families have some very DIRTY secrets!