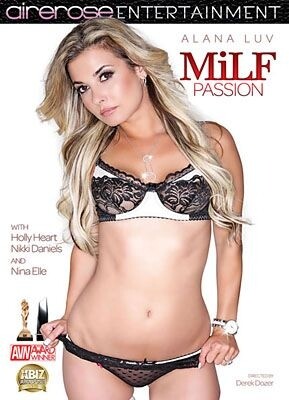 Airerose Entertainment presents four MILFs, all in their dirty thirties, all attractive, and all very bed-able, with horny blonde bombshell Holly Heart winning the award in "MILF Passion" for offering up the most…well…passionate scene.
Nina Elle, one of the few women here NOT lying about her age (which was 34 at the time…now 35), is also a good fuck. She uses a little too much hand on the blowjobs but still sucks on big Bruce Venture's massive cudgel in a whorish manner, with plenty of energetic moves whilst getting her vintage vadge violated.
Holly Heart, in her mid-thirties, looks like a youngish Melanie Griffith — though meatier, in a most-welcomed, voluptuous manner — who not only swallows hard 'n' deep on cock, but totally gets into her corking. She offers tons of eye contact with her designated plugger, John Strong, as she deliriously mutters and mumbles how much she loves getting spanked by wrinkled hose. She also utters, in similarly dreamy fashion, that she's coming several times — and you BELIEVE her. Outstanding whore.
Alana Luv is a pretty girl, who used to work at the Bunnyranch brothel (yes, she's a self-professed prostitute), possessing a delectable, all-natural body (and slightly annoying East Coast accent), letting some guy named Daniel Hunter — bang her on the plush, carpeted stairway of some home, somewhere in the Valley. This scene is the least animated, and probably a bit TOO laid back. Luv is definitely an amateur, but still fun to watch, since she's so pretty and her body is so edible.
Nikki Daniels, the only brunette in the batch, lets miniature ogre Will Powers sweatily penetrate her. Ms. Daniels has a tight, wiry body, and obviously likes rolling in the hay (or, in this case, upon a sofa) making her scene watchable, indeed.
All in all, "MILF Passion" largely lives up to its name, with a quartet of ladies who, quite visibly, are each at the peak of their sexuality. The movie also includes good, casual interviews, as well as crisp, clear videography. The only major problem is director Dozer's blaringly obvious obsession with most of the ladies putting one of their hands on an ass cheek during doggie style. Ridiculous. Just shoot the girls' asses at the proper angle if you want full coverage, bud, so that those cheeks are not obscured by ANYTHING — especially their hands! Actually, the only girl who, quite smartly, refuses to do this absurd 'hand' thing is Nina Elle. Kudos, Nina girl!
Synopsis:
Airerose Entertainment is proud to present four scintillating scenes celebrating the sexual power and passion that only comes with age. Don't miss out!