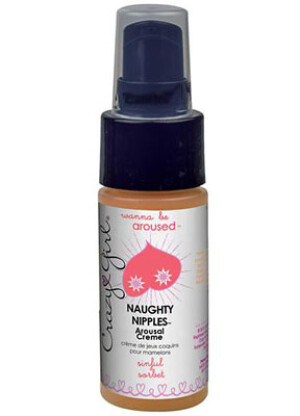 The Crazy Girl Naughty Nipples Arousal Crème by Classic Erotica is a scented, flavored cream meant to get your nerve endings zinging.
We were relieved to find it doesn't have the lube-like consistency we were expecting, but instead is the texture of a thick body lotion. The warming sensations start as soon as we rubbed the lotion between our fingers. When applied to the intended spots the arousal crème provides a warm tingling sensation.
The lickable product has a sweet, sensual taste.
Product Description:
Classic Erotica manufactures romance products, designed to be women and couples friendly. Our distinctive packaging lends a refreshing profile to romantic essentials. Innovative flavors and fragrances promise to entice even the timid plus enhance any "first time experience".
Every item is carefully researched and developed to warrant your confidence and trust. We always strive to manufacture with only the finest ingredients to assure the utmost in product pleasure and satisfaction. Our sensual lotions, oils, creme and lubricants are proudly Made in the USA with NO ANIMAL TESTING. At Classic Erotica we remain focused on the idea that sensuality loves to be expressed and explored. and will continue to provide the sensual means to support you in that expression!