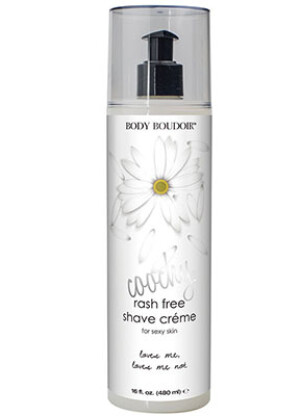 This is a favorite for both women and men. It is by far, the best rash-free shave cream around!
Coochy Rash Free Shave Creme by Classic Erotica smells amazing and performs even better. It makes shaving for me, easy and free from irritation. My skin is so smooth and soft after each use. I did not have to shave for three days after my initial use. My husband used it and he had no cuts or razor bumps … simply amazing!
The packaging is great for both the retail stores and home parties.
Manufacturer Description:
Specially Formulated with Skin Loving Ingredients to Provide a Shave So Smooth, You can Skip a Day of Shaving. Protects & Soothes Skin from Razor Cuts & Irritation. Helps Prevent Embarrassing Shave Bumps & Ingrown Hairs for Sexy Skin. Perfect for Intimate Shaving as Well as Legs, Underarms, Face & Body…Designed to Soften Even Coarse Hair. Enhanced with Hair & Skin Moisturizing Agents So Luxurious You can Use as a Body Shave & to Condition Your Hair after Shampooing! - Jojoba Seed Oil: skin lubricating/moisturizing - Panthenol: Pro-vitamin B5 nutrient for skin - Allantoin: anti-inflammatory - Hydrolyzed Hair Keratin: protein to condition skin & hair Suggested Use: Wet Area to be Shaved. Using Hands, Smooth Coochy Shave Crème to Skin… Shave & Rinse. Follow with Coochy After Shave Protection Mist & After Shave Powder to Maintain that Sexy, Smooth, Just-Shaved Look. Available in 7 fabulous fragrances! 1. Oh So Original - Alluring array of light florals 2. Naked Silk Green Tea - Natural green tea leaf with earthy botanicals 3. Not So Innocent Fragrance Free - Delicate and sensitive 4. Playful Plumeria - Sweet, tropical plumeria petal with a hint of oceanic notes 5. *NEW* Sassy Citrus - Bright, crisp grapefruit with a splash of orange flower 6. *NEW* Make Me Blush - Petal softness with sweet pea & blue violet and a hint of cedar 7. Slick Chic Pear Berry - D'anjou pear & luscious summer berries Available in 1, 4, 8 and 16 oz. bottles.

Copyright © 2023 Adnet Media. All Rights Reserved. XBIZ is a trademark of Adnet Media.
Reproduction in whole or in part in any form or medium without express written permission is prohibited.