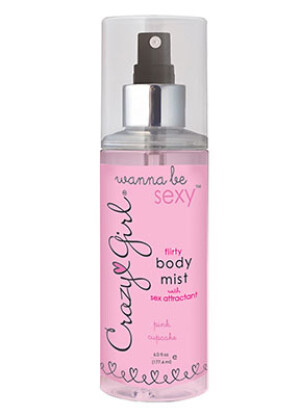 You. Will. Want. To. Eat. This! If you have never smelled Classic Erotica''s Pink Cupcake you are seriously missing out. They struck gold when they created this scent. It smells like they put an actual cupcake in the bottle. I have used this line for so long my partner just smiles whenever he smells it. This Flirty spray with pheromones moisturizes and conditions the skin, and takes it up a notch by incorporating its attracting abilities. My partner goes crazy every time it's on, and I end up happy and satisfied each and every time. The scent is the perfect blend of vanilla, a light musk, cotton candy, and sweet sugar (although it is sugar-free). I'm always looking forward to the next item I can get from Classic Erotica in this amazingly sweet scent.
Product Description:
Bait and captivate diva style... Spray on sex power. Formulated with skin lotion ingredients to inspire sensuality. Inspire hidden desires with the power of fragrance and pheromones. Designed with White Tea a powerful antioxidant that adds hydration and sexy softness to skin. Infused with a Pheromone sex attractant to entice and inspire sexiness. A playfully soft fragrance with the sweetness of sugar cotton candy vanilla musk and light fresh berries.. a simply irresistible combination for flirty little moments.