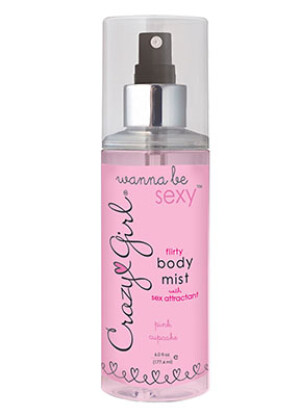 Ever wanted to smell and taste like a delicious cupcake? Well now you can with Crazy Girl's Flirty Body Mist in Pink Cupcake scent. It does more than just turn you into a tempting treat, it is infused with pheromones to entice those around you. Pull them in with your light and refreshing sweet scent. Includes skin nourishing ingredients that keep the skin soft and moisturized. Always ready for the touch.
Product Description:
Bait and captivate diva style... Spray on sex power. Formulated with skin lotion ingredients to inspire sensuality. Inspire hidden desires with the power of fragrance and pheromones. Designed with White Tea a powerful antioxidant that adds hydration and sexy softness to skin. Infused with a Pheromone sex attractant to entice and inspire sexiness. A playfully soft fragrance with the sweetness of sugar cotton candy vanilla musk and light fresh berries.. a simply irresistible combination for flirty little moments.