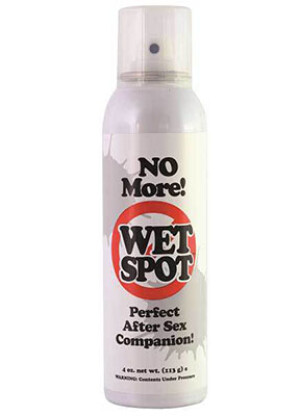 Rolling around and getting naughty is always fun. However after all the sweaty fun you are usually left with few wet spots on the sheets. No one wants to sleep in that.
But now you don't have to worry about that with this spray! Simply spray onto the wet spot and within minutes it is dry. Your after-sex juices will be gone with this lightly scented spray that dries to a powder finish. Your sheets will feel new and refreshed. Always keep one handy by the bed. Perhaps even keep one in the car, just in case. Never sleep in after sex moisture again.
Product Description:
The perfect after-sex companion!
This easy-to-use spray ends the common problem of deciding who sleeps in the wet spot, because it helps eliminate it. Just spray it on the wet spot, and within minutes it's dry. The lightly-scented spray dries to a powdery finish to refresh your sheets and rid them of after sex moisture.