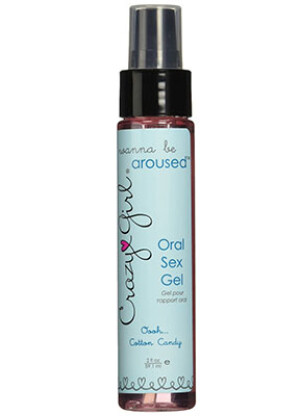 I've always been a fan of Crazy Girl products. Crazy Girl Oral Sex Gel by Classic Erotica delivers with its delicious flavors yet again. Choose between their amazing signature Pink Cupcake flavor, Mint, Strawberry or Cotton Candy. All of their flavors are to orgasm for. This kissable oral sex gel takes oral to the next level adding a silky smooth delicious layer over your most intimate areas. Crazy Girl Oral Sex Gel is paraben and sugar-free, greaseless and non-staining. It can be used in combination with your favorite toy, and is condom-friendly. It can be used to enhance both his and her pleasure, making it an extra delicious and juicy experience.
Product Description:
Giving and receiving oral is much more pleasurable, fulfilling, and satisfying experience for both partners when using the Crazy Girl Wanna Be Aroused Oral Sex Gel. The gel delivers smooth lubrication for increased sensitivity and allows for heightened vaginal arousal with every touch. Tease, please, and excite foreplay with the pleasing, delicious taste! Gel. 2.2 fluid ounces.