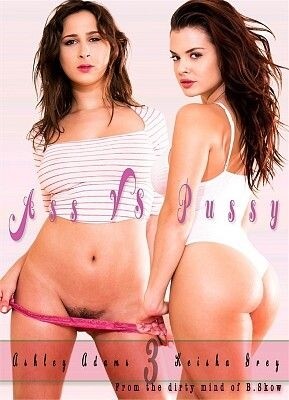 B. Skow's innovative double-disc package has the same two girls doing anal on one disc, vaginal on the second. The eroticism quotient is extremely high, as is the artistic way it's presented. The girls, Ashley Adams and Keisha Grey, are extra-delectable.
On the anal disc, each lust-inducing lass starts off teasing the camera and uses a dildo to open up her anal cavity before taking the real dick. Ashley orgasms plenty as Xander Corvus fucks her hard in several positions.
Keisha Grey plays with her large ample breasts before Michael Vegas takes over. He fucks her doggie-style, then enters her ass as she sighs with pleasure. The scene is not as completely anal as the one with Ashley, but still very hot.
On the pussy disc, each scene has a fragment of a storyline. Ashley's involves some magic apples set out by Isiah Maxwell. His long thick black dick seems almost too big for her, but only at first. She grinds her hips on it in reverse cowgirl before the creampie conclusion.
Keisha's segment has her playing "sex captive" games with Jessy Jones. There's lots of kissing and soaping up in the bathroom, very romantic, before they fuck in several positions and he comes in her mouth.
Synopsis:
Disc One: Pussy
Ashley Adams
Wide-eyed and curious Ashley Adams explores her new surroundings, and she falls for Isiah Maxwell's tricks. As she is consumed by a powerful aphrodisiac, she fucks Isiah with pure bliss, showing him the time of his life! Once she starts fucking his gigantic cock, she simply can't get enough!
Keisha Grey
Everyone has a secret, but Jessy Jones takes his secret seiously. Hidden away in his closet is the sexy Keisha Grey! Knowing nothing other than her keepers world, she is overjoyed to be caressed, washed and cared for. In return, she shows him pure love by fucking him like the sex doll that she is!
Disc Two: Ass
Keisha Grey
As soon as you see Keisha Grey, you can tell she has one of those asses that just begs to be fuxked! Perfect and perky, watch both of her holes get stuffed by not only Michael Vegas, but her favorite toy, too.
Ashley Adams
Not all girls can take anal as well as Ashley Adams - It's really something to watch her get pounded by Xander Corvus. Moaning as she begs for her ass to be stuffed, she fingers her pussy, squealing and squirting, showing what a true two hole slut she is!