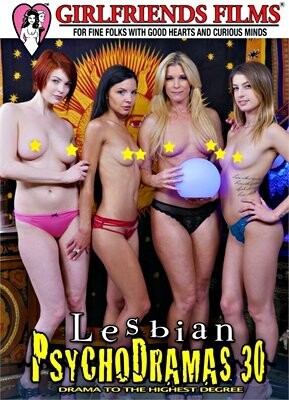 Whitney Wright tells Prinzzess that she can take the place of her ex-girlfriend. Prinzzess moans as Whitney goes down on her. She gets completely orgasmic, screaming and shuddering as Whitney's tongue goes into overdrive. Then it's Whitney's turn on the receiving end of Prinzzess' knowing fingers.
India Summer (almost unrecognizable as a blonde) flirts with Romi Rain. They can't keep their hands off each other. When India starts massaging her pussy Romi screams, and she's even better with the tongue. India gets orgasmic when Romi goes to work on her pussy, licking her demonically. Romi rubs her ample ass on India's pussy, an unusual ploy but it makes India go crazy.
Kristen Scott is depressed, so Bree Danels and Milana May take her to see a psychic, played by India. The problem is that Kristen saw a lesbian porn movie and didn't enjoy it. India's crystal ball tells her that she is in fact a latent lesbian. India gets Kristen alone so she can "work on some therapies" with her. It's a full-out seduction. India brings Kristen slowly to an orgasm. And Kristen shows some real lesbian aptitude.
Meanwhile Bree and MIlana start talking about being lesbians themselves. They start to experiment and — surprise! — they find they like it. Milana knows just how to rub Bree's pussy for maximum effect. For lesbian beginners they show a great deal of expertise. They climax with some heavy-duty tribadism.
Synopsis:
Drama To The Highest Degree: Tainted passion turns to obsessed lust!