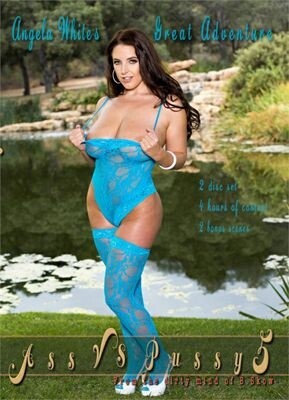 This one's definitely for fans of built-like-a-brick-house Aussie Angela White. And, even though she's only in two scenes during the course of this two-disc set — separated, as the title bluntly states, between vaginal and anal sex — Angela's sequences are as whackable as ever, with some added carnal fun from black beauty Layton Benton.
During the 'cunt' side of the movie, Angela (after minutes upon minutes of glamour footage) truly shines as she gets seriously porked by Spanish gent Ramon Nomar, while Layton is heavily boned by Jon Jon. It's not easy fucking in the great outdoors, which is what both couples are forced to do when their car seizes up on 'em in the wilderness (probably just in some desolate park in the Valley). But the four freaks, nonetheless, get their kicks amongst the birds and the bees, while personifying that same expression.
White (looking superb at 32… all 5'3" and, totally natural, 42GG-28-40 of her!) is particularly memorable in the reverse cowgirl position, with her huge tits gyrating like mad, as well as in the plain ol' cowgirl position, wherein White's succulent booty cakes provide some similarly arousing vibrating action. Layton (25 and rather Rubenesque at 36C-26-36, but equally all-natural) does well in the doggie position, as Jon Jon pumps the livin' hell outta her bounteous booty upon (cleverly) a blanket rather than the (ouch!) rocky earth.
And on the 'shithole' — and interracial, as(s) well — side of the movie (disc 2, that is), Angela is awesome, with Layton whorishly picking up whatever slack our luscious Aussie slut leaves behind (in more ways than one!). This time frolicking among the turds and the bees, Angela totally rocks in the doggie position, offering up righteous rectum gapes, as Jon Jon, from time to slime, simply yanks his black slug outta her crapper, successfully airin' that shit out. And Layton is particularly notable in her anal black-on-white balling scene with Ramon in that she doesn't at all shy away from ATMs, while also delivering the best cock-gagging prowess in the flick.
Again, fans of Angela White will certainly wanna pick this title up, while there's also some good footage (vaginal and anal) of round 'n' raunchy sweet black angel Layton Benton.
Synopsis:
Best friends Angela White and Layton Benton are out on a weekend getaway with their boyfriends Ramon Nomar and Jon Jon, when suddenly their car breaks down in the middle of nowhere! Without wanting to waste the weekend, the sexy couples waste absolutely no time getting busy, fucking right in the woods!
After a sexy romp with their guys, Angela and Layton both sneak off with each others partner, switching it up! Watch as Layton begs Ramon to stuff her pussy as full as he can get it, while Angela manages to take Jon Jon's cock deep in her ass begging for more!