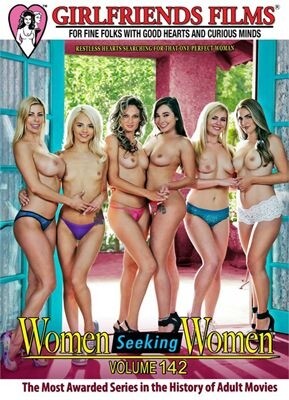 Girlfriends Films director and founder Dan O'Connell delivers another spectacular episode of "Women Seeking Women," featuring eight beautiful women, four hot scenes and one remarkably sexy true-story.
To start the movie off, Summer Day explains that, as a form of hazing, a sorority at her old college used to make pledges watch lesbian porn and sit on potty pads to see who would get wet.
The first scene pairs Karlee Grey and Girlfriends Films contract star Prinzzess in a deliciously raunchy romp. After the hazing initiation and discovering that Karlee really, really enjoys lesbian porn, (she's positively drenched the makeshift potty pads made of paper towels), Prinzzess helps Karlee alleviate her lesbian itch. Like a seasoned lesbian pro, Prinzzess leads Karlee into ecstasy, rubbing and sucking her pussy until she cums. The scene includes some scissoring, and fucking from behind (my fave!).
Then, Alexis Fawx, playing Summer's mom, gets comforted by Elsa Jean after residential mean girl Ryan Ryans exposes Alexis as a lesbian. Pairing these two blondes together is a dream cum true. Not only are they both sweethearts (seriously, they have the cutest voices and the cutest personalities), but they're vicious vixens in the sheets. The girls take turn sensually devouring each other. The sex is sweet, and includes Elsa rubbing Alexis' back, kissing her knuckles and copious amounts of compliments. Definitely my favorite scene in the whole title!
Ryan Ryans plays a convincing mean girl — the kind of mean girl that you hate, but also really want to fuck. As president of the sorority, she does whatever she wants and what she wants is Summer Day. The contrasting personalities make for a cute and sexy scene. Summer, like a warm day in July, is a complete sweetie and all smiles during the sex, where Ryan is sexy and she knows it. She dominates the scene, easily seducing and convincing innocent Summer to get naked. When they do fuck, it's hot and contains a lot of pussy lickin' and face ridin'.
To close the story, Violet Starr meets MILF extraordinaire Reagan Foxxx. The girls act couple-y from the start, and tickle each other before the rough housing. Reagan feels up Violet through her cutesy pink pajamas, and seductively asks Violet if she likes how it feels, if it feels good and whether or not her body tingles. The scene is sensual and plays out Violet's first time, with Reagan being an expert teacher. Reagan walks Violet through a self-orgasm, and then gets one in return — with Violet being a, not so surprisingly, fast learner! The scene also includes some hot scissoring, eating out and lots of sweet kissing.
No surprise here, folks. Girlfriends Films releases another amazing lesbian title, bringing together hot MILFs and teens for some delicious Sapphic action.
Synopsis:
The Most Awarded Series In The History Of Adult Movies. Beautiful woman-woman sex which is sure to excite you!