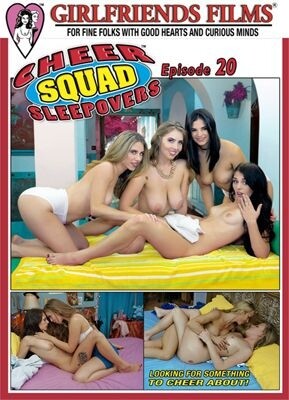 These small town cheerleaders are curious about each other's sexuality, and they gossip all the time. Beautiful Anya Olsen is thought to be gay but may only be bi-curious. Violet Starr corners her in a private room and demands an answer. Soon they're kissing and caressing. Anya looks pretty experienced for a beginner, and she brings Violet to screaming orgasm without much trouble.
Blonde Lena Paul, meanwhile, is massaging brunette Megan Sage. Megan, who says she's straight, tries to discourage her, nicely, but Lena persists, and soon Megan is getting turned on. Lena tells her, "We'll take it slow." But they get real hot real fast.
Nicole Clitman brings flowers to Alexis Fawx, the mom of one of her cheerleader friends. The MILF has a crush on the young girl, and Nicole is also hot for Alexis. A seduction gets under way. Alexis takes it slow and gentle with the young girl, licking and lulling her. Then they do some hot pussy bumping.
Shy Love, another hot mom, is busy seducing Alexis' daughter, cheerleader Kristen Scott. Lots of kissing and caressing. Sky does some hard woman-handling of the young girl and gets an avid response.
Synopsis:
They're even sexier when they get off the field! These cheerleaders know how to have a good time!