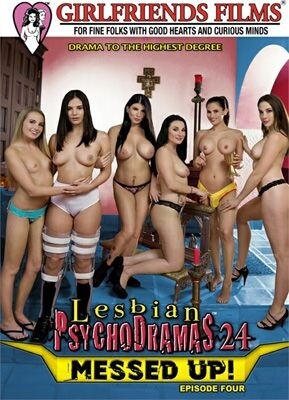 Subtitled "Messed Up, Episode 4," this is evidently part of an ongoing sub-series. Viewers who don't know the backstory are bound to find it more than a little baffling. You'll find it more rewarding just taking it scene by scene and enjoying the sex. As usual with Girlfriends, there's a great deal of talk and setup.
Chanel Preston seduces Violet Starr, who's wearing leg braces. The braces do inhibit the sensuality, but the girls manage to be erotic.
Vanessa Veracuz interviews Veruca James as a caregiver for Violet. They get into it and Vanessa makes Veruca moan and tremble.
Romi Rain and Scarlett Sage are missionaries "just back from Haiti " and definitely into each other. Romi licks the blonde's pussy and makes her scream as her tongue burrows into her asshole.
Cut to Mercedes Carerra who is a massage therapist trying to bring back life to Violet's legs. She has a lot of compassion that soon turns into just plain passion for the innocent girl. Slow kissing turns into erotic fervor and Violet really gets off when the glamorous MILF uses a vibrator and then a strap-on. It's an unusual scene since it's all one-sided: Violet does not reciprocate.
Synopsis:
Drama To The Highest Degree. Tainted passion turns to obsessed lust!