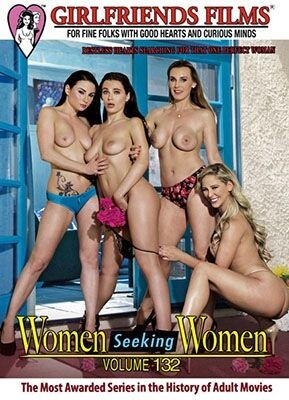 These Girlfriends vignettes start very slow but soon get very hot. Journalist Stella Cox interviews lesbian athletes about when they came out. She requests a private session with Shyla Ryder. Slowly but surely she seduces her, kissing her lightly first, then heating up with some good pussy rubbing.
Jelena Jensen doesn't realize that Dani Daniels is attracted to her. They flirt shyly. Dani quivers when Jelena licks her pussy through her panties. Jelena bucks and trembles at Dani's expert twat-licking and they roll together in a sensuous embrace.
Lana Rhoades doesn't believe her cousin Tanya Tate is gay until she climbs in bed with her. The younger girl seduces the MILF and Tanya's so turned on that she gets aggressive, sucking on Lana's tits and drooling into her asshole. That makes Lana become more aggressive herself and the sex winds up being volcanic.
Veruca James tells clueless non-lesbian Cherie DeVille that her relative Tanya is gay. In the very amusing setup she even has to explain to her what a strap-on is. Veruca seduces Cherie, who seems to have more experience than she's letting on. They do what comes naturally and the result is a hot and energetic sex scene.
Synopsis:
Restless hearts searching for that one perfect woman. Always seeking after that one perfect partner, these ladies drift through a series of intimate encounters.