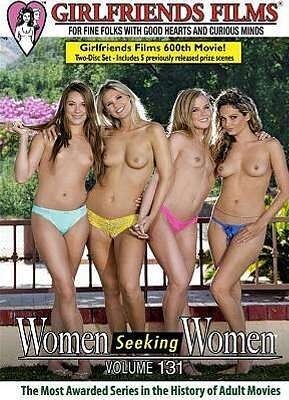 This new volume of their XBIZ Award-winning signature series is Girlfriends Films' 600th movie. Amazing. They've really stuck to their guns all these years: characters their audience can identify with, slow but convincing buildups to sex and lengthy scenes full of erotic detail.
Mom Alexis Fawkes says goodbye to daughters Scarlet Red and Nicole Clitman. She's renting the rooms in her big empty house to young lesbians. Kirsten Lee seduces cousin Stella Cox, who comes to ecstatic life under her aggressive and talented tongue.
Alexis is unhappy, having relationship problems with her daughters. She lets herself be seduced by young Blake Eden. She loves it when Blake caresses her big tits and sticks fingers in her pussy. Then she feasts on Blake's body. The very sensual scene ends with a hot bout of tribadism.
Meanwhile the girls in the rented room are getting busy. Scarlet Red seduces Kirsten Lee, who really doesn't need much seducing. Scarlet is definitely the aggressor.
Finally, ever-lovely GF contract girl Prinzzess has her eyes on newcomer Nicole Clitman. Another slow sexy seduction — a bit too slow in fact until Prinzzess gets busy with her fingers in the squirming Nicole's pussy, eliciting many moans.
Synopsis:
Enjoy Girlfriends Films 600th movie that includes 5 previously released prize scenes in over 4 hours of hot, sexy girl on girl action!