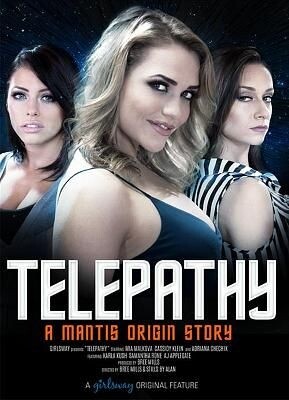 Man, I'm confused. Or should I say, "Mantis, I'm confused?" The all-girl feature "Telepathy" (which is, in fact, the start of a series) from Girlfriends Films and writers Stills by Alan and Bree Mills, has a story that's too complicated for its own good. The movie is loaded with spies, mind-reading, despotism a la government, and even a lesbian "plague" leading to the warring factions of a pro-lesbian group ("Mantis") and an anti-lesbian one ("AWAL"). Look, just forget about all of that shit. Watch this well-shot film — loaded with passionate, great-looking vixens — for its steamy five scenes of rockin' girl-girl action.
Except for the fact that Cassidy Klein plays a spy for Mantis who factors in the entirety of the movie, the first two scorching lesbo scenes — which feature this same sexy, underrated tart — have absolutely nothing to do with the second half of the movie. Go figure. Cassidy basically cons two straight 'stepsisters' (Kush and Applegate, respectively) into going gay with her horny, curvaceous self on their sofa. The Klein/Kush pairing is awesome, as is the threesome of Klein/Kush/Applegate, in that the women totally go to town on furburger.
The next three scenes feature the amazing Mia Malkova, who — if we overlook the convoluted storyline of her accidentally becoming a mind-reader, but only when it comes to the brains of women (I'm getting a fucking headache with this plot here) — is an outstanding, as you would expect, twat lapper, who really shines as she gobbles the tasty, sopping-wet slits of Samantha Rone, Cassidy Klein and (during the movie's highlight sequence) fellow ultra-slut Adriana Chechik, respectively.
Actually, one of the fantastic things about this movie (other than the superb videography, creative editing and professional direction) is the marvelous choice of women, all of whom are attractive, popular, dyed-in-the-wool porn whores who each dig men as much as women. But, hey, it's all about highly animated mouth-to-pussy resuscitation here. So sit back, relax and enjoy the nuclear cunt-to-cunt fest.
Synopsis:
Telepathy is a thigh busting story of actress Mia Malkova who, under the influence of a mutated strain of lesbian virus we now know as Dr.Elixor's Blooming Tea. Lesbianism is only one of the effects derived from the woman made virus. Mia's reaction gives her the ability to read the minds of the women she meets. Witness a corporate battle between a Conservative organization called AWAL, and the progressive homo-supportive secret agency MANTIS in this heavy and wet tale, as we follow Mia from her first moment on set, with the real "Turning" patient zero Halle White (Adriana Chechik), to the final stage of MANTIS' top secret plan, where unsuspecting Mia finally submits to the bidding of MANTIS, using her new gift to begin yet another chain of events led by her miraculous gift of intuition that brings us to a culmination of corporate lesbian revenge!