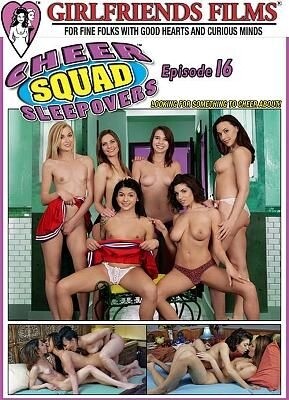 Typical Girlfriends product: long, chatty setups followed by hot but leisurely sex scenes. Cheer Squadder Dana DeArmond discovers a new income source: webcamming. She gets Kristen Scott and Alice Lighthouse to join her for a shoot.
The older girls glom onto Kristen, who is girlish and flat-chested. They soon have her quivering and shaking orgasmically. Housemother Chanel Preston gossips with the girls about an upcoming party. She's especially interested in shy Cece Capella who is not yet a committed lesbian. Chanel puts her in a jockstrap with a fake cock and has her pretend to be a boy and try to fuck her.
Tall, lanky Shyla Ryder wants to explore her sexuality so she puts on some sexy lingerie for big-breasted Darcie Dolce — her first time with another girl. Darci instructs her in French kissing and other sexual niceties. It's a nice "awakening" scene.
Blonde Alexa Grace and brunette Sadie Pop get giggly and gossipy in bed and from there head straight into sex. It's more friend sex than lust-driven, a rather mild scene that heats up toward the end when Alexa rubs off Sadie to a good orgasm.
Synopsis:
Looking For Something To Cheer About? By day they cheer the home team, by night they live their lesbian fantasies!