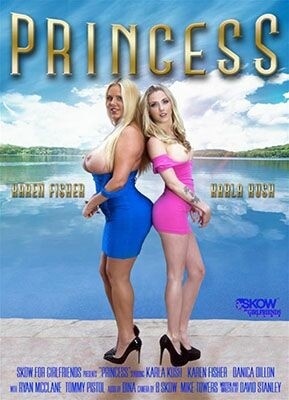 In this cleverly twisted tale, Karla Kush plays Princess, who has a sugar daddy named Paolo (Ryan McLane). He keeps her in a big house with a pool while he travels on business. When he shows up he expects some action right away, which she is happy to provide, as she's in love with him.
Princess passes out in the bathtub and is awakened by a vision: it's herself, ten years hence, played by busty blonde Karen Fisher. She warns her to ditch Paolo, whose real name is Peter and who is married. If she doesn't leave him he will kill her. Cut to ten years hence with Karen making out with Tommy Pistol, after which Paolo does indeed try to kill her.
Back to the present and we see that Paolo/Peter is a fraud, controlled by his dominating wife, Marsha (Danica Dillan). She commands him to fuck her, and thanks to Danica, it's the hottest scene. In a confrontation with Paolo/Peter and Princess, the wife springs some major surprises. But no spoilers here. Let's just say that the movie ends with satisfying payback for everyone. Writer-director David Stanley delivers not only snappy dialogue but some striking underwater (swimming pool) photography.
Synopsis:
Daphne is a self-proclaimed 20 year old "Princess" who thinks she needs a sugar daddy to survive. The only problem is, her Sugar Daddy, "Paolo" (not his real name) is a jerk who doesn't love her. And worse, a married jerk. But the 20 year old version of Princess is too love blind to just straight up leave him. It takes the 40 year old version of herself, a woman that used to be Daphne who now calls herself Darlene, to convince Daphne to kick Paolo out of her life for good.