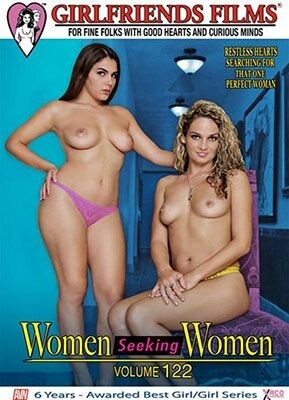 From the studio that practicality re-invented the lesbian genre with its "Women Seeking Women" series, volume 122 hearkens back a bit to its past with four separate scenes that don't tie into each other (most likely unused scenes that were compiled together) but still leaves viewers satisfied after a sizzling two-plus hours. It may not be award-worthy per se by my estimation, nor the all-time best in the series. It is what it is — a lesbian title for good ol' fashioned masturbation, and its first two scenes will definitely get you worked up.
For fans of GFF's more plot-driven films, there's no central story present here at all. What it has are plenty of sensual and erotic moments. Girlfriends cuts down the dialogue from these scenes and leaves us with the good stuff. The opening scene between Valentina and Prinzess has the girls locking lips in mere minutes, getting down to the nitty gritty. Both ladies share a really solid sexual connection, clearly enjoying the taste of each other's juices as they can't seem to get enough oral action.
The best, and unfortunately shortest scene, is delivered by relative newcomers Leenah Rae and Lone Star Angel. Lone Star clearly did something to piss off Leenah, so the only way to get back at Lone Star is for Leenah to grab her strap-on and teach the younger starlet a lesson she won't soon forget. Forget the foreplay, Leenah bends Lone Star over and bangs her hard with her plastic cock, clearly demonstrating her dominance and her expert use of the phallus. Leenah turns her over to bang her in mish and once again, pounds her hard, deep and fast. Even without her strap-on Leenah still overpowers Lone Star, delivering to her multiple orgasms with her fine scissoring technique. Thank god GFF didn't leave this scene in the vault too long, it's easily one of the hardest, most explicit scenes the studio has released this year, and certainly one of its most stroke-worthy scenes as well.
There's a bit of extended dialogue between Karen and Anita but once they get going the scene is a good one. Anita begins things by sniffing Karen's panties then tasting the source of Karen's wetness. Not only do these two like playing with one another they definitely have a good time getting one another off, and so will you watching them go at it. You may want to skip ahead of the long, almost 20-minute interview between Magdalene and Cindy (likely an unused scene from GFF's "Lesbian Sex" series), which doesn't add any heat to what you really came to watch. When they finally get to it, the scene just doesn't feel organic, with both performers merely just going through the motions and not being too into the moment of the scene. A shame since both are talented performers when they get into porn star mode.
Overall, "Women Seeking Women 122" doesn't re-invent anything but it does provide good stroking material, enough that diehard fans of the series will want to stream. Retailers may want to just keep their usual orders for this volume, but it likely won't be collecting dust on store shelves.
Synopsis:
Restless hearts searching for that one perfect woman. Beautiful woman-woman sex which is sure to excite you!