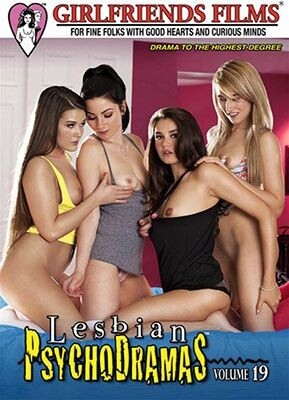 Roommates, lovers and stolen yogurt are the themes of this particular psychodrama. Penny has problems with her girlfriends, and she also keeps seeing Brooklyn Chase, who just might be a figment of her imagination. Her best friend Natalia Starr gets into it with her own roommate, Alex Chance, who has big voluptuous tits. They do some delicate clit-tonguing on each other. Brooklyn Chase, who seems to be invisible to other people, materializes and feeds Penny yogurt. She and Penny retire to a bedroom and go at it.
Veruca James and Allie Haze are Skyping each other. Allie has gone to Minneapolis to make a lesbian movie. Veruca's roommate Abby Cross comes in and they start kissing and caressing. Some mutual pussy-rubbing sends them both into pre-orgasmic ecstasy. Abby's tongue makes Veruca scream. Meanwhile, Allie reads lines with her co-star Lilly Banks. They get turned on to each other really fast, with lots of kissing and scissoring. There's kind of a cute twisty ending, story-wise. This is not one of GFF's more passionate offerings, but it's pleasant, with cute girls and hot-enough sex.
Synopsis:
Drama to the highest degree. Tainited passion turns to obsessed lust.