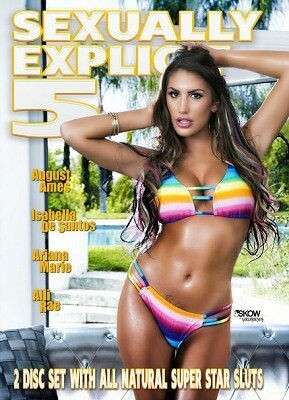 Here's one of those rare porn movies that will totally satisfy the couples crowd and the hardcore pervs. Why? Simply because, while the film is 'tasteful' enough for tame audiences, this two-disc set from Girlfriends Films also includes hearty poundings of some of the cutest girls in the biz that'll certainly satiate yer more demanding viewers/spewers.
The movie actually just gets better and better from disc to disc, scene to scene. Each of the four episodes, by the way, has the overall same pattern: casual glamour shots of the girl; an equally casual interview with her; a far more slick (in terms of the starlet's apparel and the scene's backdrop) glam sequence; and then the sex itself, with the girl getting boffed in the same casual setting in which we originally set eyes on the little darling.
Going from scene to scene (and disc to disc, as there are a brace of suck/fuck scenes per DVD)… Blonde and fair-skinned Alli Rae is sweet-looking and has one of most PIERCING sets of eyes I've ever set my eyes on in smut. She also looks great in a fetishy skirt/outfit (during her more extravagant glam scenes), and even better OUT of it when getting hammered by Xander Corvus, who gets pretty fucking sweaty with this frisky little piece of ass. Excellent positive energy here!
Next, and cunt-cluding disc one, is one of my favorite scenes/gals in the movie: the porking of Ariana Marie. Not only is this young, exotic-looking brunette precious as hell, but, damn, what a body on her! She's also so nice and generous in that she lets some total dweeb bang her brains out. Hell, I love her just for THAT Good Samaritan act alone! Lots of terrific positions here, as the dork (who's, obviously, in heaven!) humps her pretty brains out. She's a fine cocksucker, too. Hope to see much more of Ariana!
Moving on to disc two, we're off to an incredible start, indeed, with the incredible August Ames, who looks lovelier and lovelier each time I see her — and is more and more of a pleasure to watch get penetrated. What a body on this fox! Talk about amazing bronze skin. And what a perfect face, pair of tits, and set of ASS cheeks! Lucky prick Anthony Rosano gets to slam this ultra babe, who's positively beaming for Skow's camera during her casual glam shots. And wait until you see here get doggied, with that priceless pooper really getting a fierce workout. The only problem I have here — and as usual with Ames — is that she's a bit lazy on the blowjob, using way too much of her hand. Blowjob purists will like her style, though, as she doesn't do any of that choke-and-gag stuff. She's more old school. That aside, Ames is one of the hottest properties in porn today, and we're REALLY enjoying this bitch to the max while she's around.
Lastly, we have tasty Colombian treat Isabella de Santos, who really burns down the bed in this one. Seriously, this girl must have one of the prettiest faces, most devastatingly warm smiles, and truly killer bods in the biz. And she knows how to USE that awesome body, too! Some bald dude gets the fuck of his life here — and the SUCK of his life, as well, seeing as Isabella is an OUTSTANDING cocksucker, going marvelously deep with baldy's bald-headed rat. Completely upbeat passion throughout her scene. It's definitely a great ending (and that term includes Ms. De Santos's ass-tounding butt!) to a fine fornication flick.
"Sexually Explicit 5" might not have shithole-slamming, dick-out-of-crapper licking, and fart-eating, like some of your more hardcore titles out there — but it does have wonderfully attractive women who really enjoy their suck/fuck work, and who are all FANTASTICALLY captured on camera by talented director B. Skow. Again, a good title for couples AND horndogs alike.
Synopsis:
Sexually Explicit 5 takes director B. Skow's high end award winning tease and sex to a new place. Skow takes four of the most popular girls in porn and showcases them with two different styles of tease, revealing and entertaining interviews, and bright and clear hardcore fucking. Watch August Ames, Isabella De Santos, Ariana Marie, and Alli Rae in a movie that was created and shot for true fans of these incredibly talented stars.