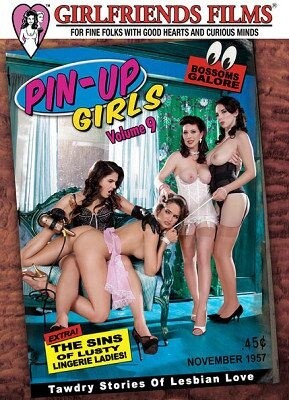 All four couplings in this lesbo porn entry from Girlfriends Films are steaming because of either the ravenous nature of slightly older star RayVeness or the cute and juicy looks of the other relatively younger stars, especially Prinzzess and Valentina Nappi!
Some time during the classic cheesecake period of the 1950's, RayVeness portrays a delicate, sweet, HORNY older broad conducting a mail-order "girlie" photo/magazine/movie business out of her nondescript house somewhere in America — back when $100 a day was akin to $1,000 — with some rather arousing girl-girl trysts resulting. We start off with RayVeness doing a kinky, S&M Bettie Page-type of photo shoot with 'models' Prinzzess and Jelena Jensen, after which our ever-famished pornographer seduces Jelena in her bedroom. It's a good 'opener,' if the rather chatty seduction itself takes forever and a day.
One of the movie's true highlights follows, with two of its most succulent ladies: namely, Italian-born anal queen Valentina Nappi and American lesbian princess, er, Prinzzess. After the devious-in-a-slutty-way RayVeness convinces Valentina to do porn, both she and her partner Jelena are soon filming and photographing, respectively, Nappi giving Prinzzess an old-fashioned, vacuum-cleaner-looking vibe through the latter's underwear, when RayVeness and Jensen craftily sneak out of the room, leaving the two ladies to their own (dirty) devices. And talk about a double pair of choice butt cheeks! After the corsets come off (yah!), Nappi and Prinzzess totally get into each other's nether regions. Nappi, in fact, has such nice, biggish, firm tits, she starts massaging Prinzzess' butt muffins with them, which sounds lame but is, actually, quite erotic.
Blonde Victoria White and redhead Jayden Cole have a lover's spat but wolfishly kiss and make it in the boudoir. Both girls are on the highly attractive side and it's a pleasure, again, seeing those corset fly off, with Jayden, to be completely fair, donning most of the suck and lick tools (as in a wet and probing tongue!), really burying her face in White's muff; which brings us to an interesting question… What's sexier? — seeing a hottie GET eaten, or watching a hottie EAT? Hmmm… We'll say BOTH (slurp!/moan!)) are of equal vice validity.
The final scene (yes, ours is the frugal age of four scenes per movie, as opposed to the minimum of five smut episodes per title only a few years past) has the incredibly sexy Ashlyn Rae seducing her stepmom, i.e., our fearless cheesecake pusher, RayVeness. Rae is an amazing spinner, totally losing herself as RayVeness cunt-sumes her. Rae also does do a wee bit o' licking, but plenty more sticking. Nope, it's RayVeness who's the true fishmonger here. Still, it's great seeing Rae in such a seductive, slutty mood. And that tight little body of hers! Whew!
"Pin-Up Girls 9" is a strong girl-girl entry for the couples circuit, with plenty to offer by way of attractive young women — and, of course, the super seductive RayVeness — as well as a fun little period-piece plot. But, as there are just too few close-ups of the muff-munching, the movie will similarly disappoint the hardcore porn clan demanding a more in-your-face approach to sex.
Synopsis:
Tawdry stories of lesbian love! Naughty lesbians in lingerie!