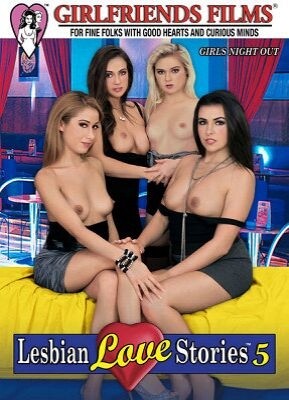 In two separate stories, ladies eat their fill of fish in this couples-friendly lesbo entry from (you got it) Girlfriends Films, featuring some fairly heated girl-girl sex.
In the first grouping of ladies (four in this initial batch), Belle Noire is depressed about breaking up with her beau, so her lady friends (Aiden Ashley, Jasmine Caro, Evi Foxx) decide to take to a wild club to cheer her up, and upon their return, the rather drunken chicks break up into pairs to sample some vaginal wares. Evi Foxx and Jasmine Caro each have rather fuckable bodies, and the girls are absolutely into one another. Problem is that the camera doesn't get in there frequently enough, and when it does, a girl's head is in the way of the action. A bit frustrating. The girls do simultaneously finger-fuck each other at one point, however, which is also somewhat horny.
Next, the rather svelte (a euphemism for skinny) Aiden Ashley gives meaty Belle Noire a massage, with each girl, of course, eventually mouth-massaging the other's muff. Belle looks great bent over — can't go wrong with that pretty face and succulent butt — and when she winds up sitting on Aiden's gob, it's a joy to behold. Ashley is definitely the more voracious of the two suckers, letting us enjoy the deliciously juicy quality of Belle all the more.
In our next story, Danica is uptight about her girlfriend, Abigail Mac, inviting a former dyke lover, Chloe Foster, over for dinner along with her new girlfriend, Lilly Evans — and she was right for being concerned, as Abigail winds up sucking Chloe's cunt dry; but the other two women gorge on gash, as well. We especially love it when Abby worships Chloe's anus. And during this particularly scorching twat-to-twat tryst, Chloe's fair, taut body is beautifully contrasted against Abigail's lush bronze figure. The two ignored girlfriends, Danica and Lilly, decide to enact some girlfriend revenge, ultimately doing some impressive cave exploring themselves. Danica is a whorish woman who knows what she wants, while the pretty Lilly is relatively delicate and submissive, with both babes certainly delivering the girl-eats-girl goods.
Each and every female in LLS 5 is sexy in her own way, and all of them certainly know how to work a pussy well, and/or just sit back and totally enjoy getting worked over. Again, the major drawback is the camera work: The videographer just doesn't get in there close enough to consistently capture the sizzling suck action. Still worth a look, though.
Synopsis:
Lesbians look for sexy times on a night out! Simply the most realistic sex in lesbian adult video. For fine folks with good hearts and curious minds!