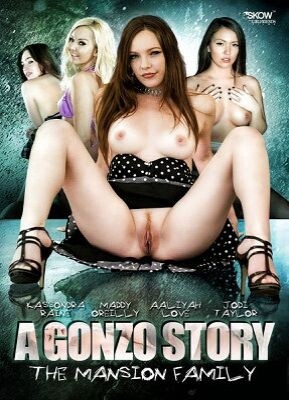 This Girlfriends Films movie has nothing to do with cult leader Charles Manson and his "family", despite the somewhat misleading title. It's a strange oxymoronic label, too, seeing as there's never ANY "story" in a "gonzo" presentation. And there's not much of a story here, either. Just some from-the-hip soap-opera chatter (usually shot from a POV perspective). More to the point, the sex (thankfully NOT shot from POV angles) is what you want, and it's very watchable in A Gonzo "Story", with a foursome of horny chicks getting hammered in a, supposed, "mansion."
First we get Jodi Taylor, who always puts in a good performance, even in the cheapest films, which "Gonzo Story" is not, at least in terms of its comfortable on-location (or so it seems) sets; though they don't look palatial — or even mansion-like. Taylor gets it on (in an honest-to-goodness bed, no less) with Toni Ribas (the guy who could easily be Ramon Nomar's brother, if not his Spanish doppelganger, even down to the fact that they're both always so seeeeerious about sex…). And it's ultimately Taylor's juicy body, effervescent personality, and insatiable attitude which make the scene. And dig that nice, big, and (in the best sense of the word) ass!
To make up for stealing the guy (Toni Ribas) who was going to take the virginity of her on-screen sister (played by Maddy O'Reilly), Jodi basically tries to make up with sis Maddy by having Jodi's own boyfriend (played by Tommy Pistol) bang O'Reilly. Still with us? Too much soap opera for ya? Have a headache yet? Watch this whackable scene with big-assed Maddy and your headache will go away. Maddy, as usual, doesn't disappoint. Marvelous cock-choker, too. Only problem is the actual porking here is way too short, with only two positions. What's up with that director Skow?
My favorite scene is the next one, with the amazing Aaliyah Love; and if Love's cute face doesn't win you, then her luscious body certainly will. She gets it on with resident porn goober Mr. Pete, lucky enough, indeed, to have sex with a girl as fantastic-looking as Aaliyah. And thank goodness there are far more positions in Love's rockin' scene than the previous cheater with O'Reilly.
Last up is Kassondra Raine; a pretty girl, with a tight, all-natural body, who takes on (the other oh-so-serious Spaniard, who's also, as you recall, Toni Ribas' double) Ramon Nomar, and she handles him quite well. A good scene, yes, but not as high-energy as the Taylor and Love trysts.
All in all, "Gonzo Story: The Mansion Family" is a perfect, hot-but-tame-enough outing for couples, with director Skow doing different things with non-sex POV footage (to mix it up and develop character and — what little there is of a — storyline), while all of the easy-on-the-eyes girls are solid performers. Especially Taylor and Love.
Synopsis:
Have you met this family? Everyone has a deep desire to have a mysterious encounter in a mansion. Their rooms are open wide for you!