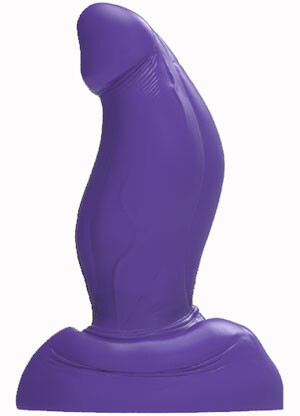 The Blaze (size small) dildo by Bad Dragon is so unique, it looks more like a little silicone statue or piece of art than it does a sex toy. It certainly isn't your average cock-mold and the swirling gold and orange color is beautiful and fun. The company has a pretty funky website where you can read about the fantastical creature that has supplied the inspiration for the toy. In this case, Blaze is a fire drake, a dragon-like creature. And they claim he is ready to set your loins on fire. The toy is of gorgeous quality and perfectly sized for comfortable, regular use. It says small, but the toy is satisfyingly thick and fits nicely inside the vaginal canal. Overall, this is a wonderful toy, gorgeous, safe, and entertaining. We love it!
Product Description:
Fire up your passion and stay warm with Bad Dragon's hottest dildo, Blaze!
Sporting a wonderfully designed, handcrafted base, an elegant, graceful curve, and a delicately textured shaft and tip, Blaze is guaranteed to leave a lasting impression on even the most discerning of toy lovers. Fan the flames of your desire further by adding a suction cup or cum tube to your Blaze for even greater fantasy fulfillment.
Add this hot Blaze to your Bad Dragon dildo collection and feel the heat!