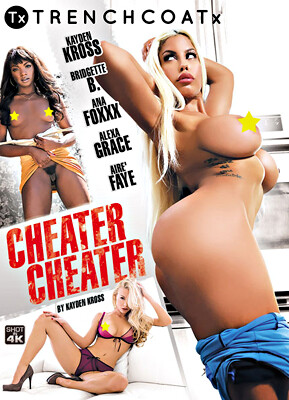 More great porn from Kayden Kross, this time on the theme of cheating. Every scene sizzles but the standout is Bridgette B. in a two-parter that's almost a mini-feature.
The Spanish bombshell is wrapping things up with lover Stallion Strong, but has to get home in time so husband Manuel Ferrara won't miss her. She gives Stallion a blowjob cum handjob that is one for the ages and gets back just in time to confront Manuel, who knows exactly what she's been up to. "Did he fuck you like this?" The whole scene, from oral to vaginal to anal sex, is played standing up in a kitchen. The orgasmic intensity is off the charts. Terrifically erotic.
Arie Faye, an incredibly delectable newcomer, plays a personal assistant to rich guy Tyler Nixon. Part of her job is to wake him up every morning and one day she falls into bed with him. He fucks her with slow-burning passion and she responds in kind. The scene is all about a man turning on a woman and how to do it — conceived and directed by a woman.
Kayden herself comes on strong, swinging a baseball bat, to have it out with Ana Foxxx, who's been screwing her boyfriend. After some fisticuffs they jump into each other's arms, getting into it with passion. The way they look at each other after their mutual orgasm says it all.
Finally, Alexa Grace and Ricky Johnson play co-workers who consummate their mutual lust on a business trip. Their coupling is slow and sensual with much attention to the woman's arousal. Ricky drives her to ecstasy and Alexa's reactions are enthusiastic.
Synopsis:
TRENCHCOATx's newest collection of vignettes features four highly satisfying tales of unapologetic cheating. Cheating: It's not nice, but it's satisfying. Besides, we don't fall for stories on account of how nice they are. We fall for them on account of how satisfying they are.