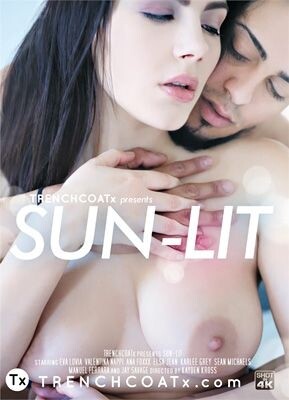 Kayden Kross delivers a one-of-a-kind porno; like an artist splashed across the canvas, it is clear that Kayden poured her heart into "Sun-Lit." The title, aptly named after the sunrays that cascade over each performer beautifully in each scene, is a masterpiece, featuring five gorgeous women having sex, illuminated by some seriously dazzling daylight.
First up, 2017 XBIZ Female Foreign Performer of the Year Valentina Nappi looks gorgeous in her casual attire, wearing Jay Savage's flannel, a tight crop top with the words "Carbs" emblazoned on the front and skimpy blue undies. Jay's a looker too, boy-next-door with a well-kept beard and washboard abs. They make a convincing couple, and the banter between them is natural. "The neighbors can see," Valentina cheekily says, stretching by the floor-to-ceiling window. Her big brown eyes eyes sparkle in the sunlight. "Let's give them a show," Jay smoothly replies.
And give a show they do. Their chemistry is real. Valentina seamlessly straddles Jay, bounces her booty on his belly, and without missing a beat, he squeezes her ample ass. There is plenty of focus on the foreplay — Val runs her hand over Jay's chest, Jay kisses her passionately — which I really appreciate. The scene is realistic, making the viewer feel almost as though they are voyeuristically witnessing two lovers. The setting itself is marvelous, too. The room is decorated with vintage furniture like an old fan and drawer, a cruiser bicycle and a variety of succulents. It gives the scene a warm, homely feel. Once Jay cums on Valentina's face, the duo wrap themselves in white sheets and cuddle. Valentina and Jay really shine together.
Next, in a scene with almost no dialogue, Eva Lovia gives a stunning performance alongside Manuel Ferrara. A somber Eva contemplates the great loss of a lover while recalling all the sweet memories she and Manuel had together. As she turns a record player on, a series of flashbacks begin. In between sun flashes, the viewer gets a taste of the sweet relationship Eva and Manuel shared; there are cutesy kissing moments, a lap dance and even strolls down the street with the couple holding hands. Then, as the sun starts to set, the harsh reality of heartbreak is clear.
While Manuel packs his bags and gets ready to leave, Eva's puppy dog pout convinces him to stay. With a darker atmosphere, amidst slivers of sun still flowing in through the windows, Eva and Manuel make up. Their sex is explosive, filled with passion. Eva clings to Manuel like her life depends on it, rides his dick and takes the entire length of him in her mouth. The way this scene was filmed, which is something akin to a music video, is perfect — the story is clear. It has a beginning, middle and a happy ending filled with orange-hued sunshine. Definitely worth a watch.
After that, is what I consider to be the best scene in the title. One of my all-time faves, Elsa Jean, meets another all-time fave, Ana Foxxx, in an irresistible dream sequence. Ana, rocking a sexy and awesome afro, tells her bae, Sean Michaels, about a pretty young girl she saw earlier in the day. When she starts to describe her, the picture is clear: it's Elsa who has been occupying Ana's dreams. Sean, then, asks Ana what they would do if the mysterious blonde girl were there with them now.
And, man, does Ana have some wicked fantasies. The scene is absolutely stunning; the contrast between Elsa's skin tone and the couple is extraordinarily breathtaking. The trio move together effortlessly — Elsa devours Ana's wet pussy, while Sean tastes Elsa. The dialogue in this scene is beyond sensual; Ana directs the conversation, lets Sean and Elsa know where she wants them and how good they're making feel her. As for the setting, Kayden has really outdone herself with the creative direction. The room feels lived-in, the fairy lights twinkle in the background and the low burn peering through the window cast a delicate shadow over the performers. To end the scene, Elsa disappears and Sean embraces Ana sweetly.
Last, but certainly not least, Karlee Grey and Manuel Ferrara meet up for some quick, raunchy sex. Presumably set after Manuel and Eva's fight in the first half of the film, Manuel heads out to visit Karlee. The bouncy brunette seems down in the dumps. The reason? Well, the excessive amount of bills and collection notices piling up on her table. Manuel buries his face in his hands, distraught over his breakup, and Karlee is there to greet him.
It doesn't take long for the pair to get into it. Unlike the previous scenes, in which the sex is sensual and unhurried, this one is infused with a ravenous tempo. They rip each other's clothes off, tossing them to the side without a care. Manuel is rough, squeezing at Karlee's breast, plowing into her while she moans loudly. Though animalistic, romance is not lost. As a viewer, you can still feel the tenderness between Karlee and Manuel. Sometimes, you really need a friend to fuck you silly.
From the sets, to the dialogue, to the continuing storyline … Kayden has produced a memorable work filled with outstanding artistry.
Synopsis:
TRENCHCOATx and Kayden Kross present Sun-Lit, the debut title from the "curated smut" collection. Sun-Lit is a departure from highly stylized, studio-lit hardcore sex - in the best way possible. The sex is still hardcore but the focus is shifted to the connection between performers on those perfectly hazy days that beg for afternoon delight. Kross utilizes the sunlight to do her players justice, highlighting their features and, more importantly, their pleasure. Featuring Ana Foxxx and Sean Michaels in their threeway fantasy with Elsa Jean. Eva Lovia and Manuel engage in familiar territory. Valentina Nappi and Jay Savage give their neighbors a matinee show, and the stunning Karlee Grey welcomes Manuel back in the most passionate way she knows. Sun-Lit demonstrates beautiful, hardcore sex from the dirty, curious mind of a woman.