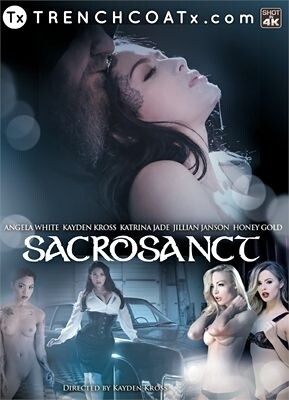 "Sacrosanct" begins with a literary quote etched upon the screen, from Emily Bronte: "He's more myself than I am. Whatever our souls are made of, his and mine are the same." This elevated flair sets the stage for one of the most exquisitely crafted adult movies in recent memory, in which director Kayden Kross proves herself a true artist, not merely because she can produce painterly cinema with high-tech gear and beautiful women, but because she has imagination and vision.
She is, quite simply, a fucking philosopher, tapping into the very psyche of mankind. And yea, the medium through which she explores such depths may be pornographic in nature, but the underlying poetry goes well beyond the confines of beastly rutting.
After all, any vapid primate or buxom babe can be trained in all manner of kinky acts, yet only bona fide intelligence … of the type that penetrates to a soul's shadowy core, calling forth that raging void from its enigmatic shroud … can outlast even the most potent of physical chemistry, which inevitably fades beneath the ceaseless onslaught of intellectual boredom.
For no matter the outward compatibility of political beliefs, personal philosophies, sexual proclivities and shared peer groups, only those whose sophistication eclipses simpler beings, with the wisdom of greater years and multifaceted exploits, are destined to don crowns with royal equals. Like Bronte's words foreshadow, the essence of a true lover reveals an inner identity that defies previous notions of self, plunging hearts into such haunting depths, that all manner of buggery and bombast are crushed beneath the gravity of a swirling black hole. Nothing can escape its supermassive maw. Nothing.
Thus, only dark enlightenment is sacrosanct, divining cosmic truths too primordial for frontal lobes to process, too reptilian to be visible. The rest is forgettable infatuation, naught but sparks at the mercy of tortured genius. And what better living canvas to cast such hardcore sorceries upon, than 2017 XBIZ Female Performer of the Year Katrina Jade? So opens "Sacrosanct," with its spellbinding first scene…
…cocooned in dark rope, Jade is a witch ready to be burned at the stake. And the flames will come, most seductively, but only after she is freed from this wicked chrysalis. Flanking her are two shirtless brutes with sinewy arms and executioner hoods.
They begin to unravel her, slowly, as the bindings uncoil and gleam with serpent sheen. Water drips in the silence of this cavernous underworld, causing ripples to manifest across the liquid floor, with unearthly enchantment. Reverently, the two hulking sentinels fully release Jade from her entrapment. And whatever light dares play across her infernal majesty, silhouettes those perfectly pierced breasts. Every ray succumbs to the black widow beauty of her figure, absorbed into that abyssal purity. Foggy tendrils kiss her thighs, roiling across the murky floor and spiraling upwards with smoky curls.
Their grim work finished, the executioners stand at attention, yet Jade keeps turning on her mystical platform, its motions no doubt ensorcelled by daemonic powers. She is a fertility goddess, and this is her sexual rite. Helping her down, the men take her hands gently, when suddenly, a blaze of luminosity reveals a third hooded figure. Upon an ornate ivory throne, Jade's real-life husband, Nigel Dictator, watches from afar, his bearded visage smiling beneath the folds of imperial robes. His hotwife stands up, eyes transfixed on him, while she fondles the figure to her left. Her hands move lovingly across the torturer's pants, before removing his large cock and putting it in her mouth. She glances towards Dictator, delivering a sensual blowjob to her chosen meat puppet, before flicking those snake eyes to dagger the hooded rogue she is pleasuring. Spit drips from her fangs as her red lips consume his engorged cock more fully. She moans softly, clearly enjoying herself. The tempo picks up. Cum and spit drip everywhere. His hips move in unison with her mouth.
She turns to the other man, undoing his pants. The blowjob comes fast and deep. Her breathing hastens. The moans take on a ravenous timbre. Spit and cum spool everywhere as the unattended fellow pleasures himself. Dictator smiles in the background. Jade starts jerking off both dicks, taking each fully into her mouth, spittle and jizz flying everywhere. The camera zooms in to Dictator. He is in a blissful trance.
Jade at last unmasks one of the mysterious strangers, revealing Charles Dera. She kisses him passionately and pulls back like a cobra, removing the hood of Tommy Gunn, to make out with him. Pulling down her thong slowly, she bends over towards the camera, to reveal her luscious ass. She crawls across the watery netherworld towards her king. Her legendary pussy glitters.
Kneeling before him, she is an initiate, begging for a blessing. He offers his left hand, palm open, with papal command, inviting her to sit on his left leg. Like a loyal succubus, she complies, and then gives Dera a come-hither stare. The music picks up as he strides forth and eats out her pussy, the "Daddy" tattoo emblazoned above her shaved snatch enticing to behold.
Her legs open, as she plants her feet on Dictator's knees. With a single finger, she lifts Dera up by the chin, spread-eagled before him. He rubs his cock on her, before plunging inside that sweet vadge, gripping the back of her neck. Dictator holds up her leg, as Dera does slow strokes inside her. Jade moans and cries. Dictator takes a firmer grip on her leg. Dera picks up the pace, banging her as her tits bounce. Jade and Dera stare into each other's eyes. Glittering water reflections dapple their bodies.
Dera steps back, like a petitioner done with his plea before the king and his demon mistress. Jade steps off Nigel, taking Dera's dick in her mouth and bending over, as Gunn moistens his cock. He lances her from behind, slowly. Jade sucks and squeals, her tits flapping in tandem with Gunn's thrusts, as he grabs her ass, bending that devil-tailed "Slut" tattoo in his grip. Her womanly flesh is electric. They roughly manhandle her, trading her neck back and forth. She adores it. Her hands claw into them, as she moans. She then offers herself doggie style to Dera, switching to deliver noisome blowjobs to Gunn.
Jade climbs on Dictator's lap again, rubbing herself all over him before perching like a predatory bird. She gets down on her knees, waving her pussy to entice Gunn, who takes her from behind. Dictator holds her in place, enjoying the spectacle. Smoke plumes rise in the back.
She plants her hands on Dictator's chest for support and he holds her affectionately. Dera comes from the right, pulling her head to his cock for a blowjob. His other hand grabs the throne. She slurps him, while getting fucked from behind. "I want you to look at your man," Dera commands. She complies, staring at Dictator, as bars of light illuminate their locked gazes. Dictator smiles beatifically. "Let him come in your pussy," he commands, eliciting a wicked smile from his hotwife. Gunn pounds and pounds and pounds.
Dictator cradles her head in his chest as Gunn releases a load inside her, then he pulls back her cheeks, his fingers plunging inside her, before taking the cum out and putting it in her mouth like it is priestly communion. Dera steps forth, jerking off, as Dictator holds her face in place for a spray of jizz. She burbles the cum, fingering herself, before standing up to sit on Dictator, lost in a haze of lust and love. Her head rests on his shoulder. Blackness falls upon the screen. Dripping sounds echo.
Lightning crackles over a cityscape, as the second scene materializes. Down an alleyway, the camera travels to a neon-lit room, where scantily clad Honey Gold walks with trepidation. She peers at a sculpture of a woman beneath a lampshade.
Cut to her and Kayden Kross relaxing together during a sleepover, gossiping as a movie plays in the back and popcorn glistens before them.
"Have you ever slept with a man you don't know?" Kross asks. "No," Gold replies. Quick flashes take the viewer to Mick Blue and Gold dressed to the nines in a white room, whipping back to the neon room again, where Kross offers an "Artist Agreement and Release" form to Gold.
"I always thought it'd be too impersonal," Gold says in the sleepover sequence. The camera flashes to Gold elsewhere, nude except for a wedding veil and flowers. "Like giving myself away," she continues. Kross retorts, "You think it's impersonal? I think it'd be the most personal thing."
Cutting to Gold licking a knife, drawing blood from her tongue, the scene morphs. "I mean, you wouldn't give yourself to just any man would you?" Kross asks. Back in the neon lobby again, Gold applies her ink-dabbed fingerprint to the contract Kross proffers. A twilight woodland scene unfolds. The moon vanishes behind clouds. "Besides, I'm not property," says Gold. "What's it like?" Images appear of her guzzling water, then blowing bubbles beneath the surface as if drowning. "Sleeping with a stranger?" muses Kross. "It's like letting go." Then, Gold asks, "Of what?" Kross replies, "Of everything."
Gold wipes her lips clean. "With a stranger, you can be unapologetically you," Kross reveals. Sparks fly as Gold works in a metal shop. "What would I have to apologize for?" the ingénue asks. "You're only human aren't you?" points out Kross. "We all trespass a little." Topless Gold pulls her slick hair back and walks with boots across broken glass. The camera zooms through a forest. "Then what are you left with," Gold asks. The neon room appears again, with an unlit sign bearing the word "YOU" adorning the wall behind Gold. "You're left alone with you," Kross says. The sign lights up. "Does that scare you?" Kross asks. Gold says, "No." Thunder rumbles.
The heavily symbolic montage ends and the scene settles in the neon room, where Mick Blue walks forward in his underwear. Large neon lips ignite on the floor. Gold paces around Blue, then bites his shoulder vampirically, after locking eyes with him. He grips her throat. They kiss. He fondles her and throws her on a couch with intricate cushions, before ripping her top off. A grandfather clock ticks behind them.
He licks her nipples and pulls aside her panties, fingering her, kissing her neck. He shoves her forward, eating out her ass, then pulls down her panties. She breathes heavily, writhing in the throes of passion. He pulls her stockings off and eats her out ferociously. Gold pulls at his hair, her head rolling back with delight, as her hips gyrate and undulate beneath his tongue. Her hands grip her own tits ecstatically. Blue climbs forward, straddling her. She whips his cock out, sucking it hungrily. Her hands and mouth cannot get enough of his dick. She rolls her tongue and lips all over it. His hand fingers her silly.
Blue rips his underwear off, settling beneath her, as she mounts him cowgirl style. His dick slides into her and she rides him good. He seizes Gold's tits and sucks her fingers. She cries, roughly rolling back and forth on him, howling with delight. The camera gets a nice angle of his dick pumping her, balls slapping against her asshole. She grinds fiercely on him, reaching back to give him a handjob when he pulls out. He flips her over, bends her over and eats her out as she clenches the cushions tightly. The lens zooms in on their faces caught in rapturous delight. He enters her doggie style, pounding away and holds her throat. "Oh yes, yes, yes!" she screams.
The tempo slows. She undulates as he kisses the back of her ears. She lies down and he enters her from the side. They make out sensually. He grips her nipples and her hand holds his. He rubs her clit while giving it to her. From afar, the camera captures the red neon lips in the foreground, with the "YOU" sign reflected in the mirror. Gold opens her legs wide, kissing Blue in missionary and gripping his back. He pulls out, cumming on her belly.
The alleyway that preceded the second scene appears again. Now, Angela White, in pinup garb, walks with Manuel Ferrara through a warehouse filled with various odds and ends, like an Egyptian statue and a clothing rack. He takes her hand. They enter a room where Gold and Blue are kissing. So begins the third scene in earnest, as Ferrara rubs White's tits. Blue flips Gold around and Ferrara makes White's hand slap Gold's ass, as White grins madly. She rubs Gold's tits, pawing them in earnest and pinching her nipples. Ferrara then guides White's hand to Gold's throat. He is in command. The ladies reach for each other to kiss, but Ferrara pulls White away brutally, as does Blue with Gold.
Ferrara and White turn the corner, where Kross awaits by several lockers, naked except for her pink panties. She rubs herself. Gold and Blue are still visible, making out in the background. Ferrara once again leads White's hand, this time to rub Kross' tits and seek her vagina down below, fingering her in unison before pulling the hand back aggressively. He puts it in Kross' mouth, clearly controlling White like a marionette, making Kross suck those fingers before slapping White for daring to try and move without his permission. He slaps Kross too for good measure, and the moment the women are about to make out, he pulls White back.
The camera transitions to a dark classic car with headlights penetrating a misty garage. A silhouetted driver and passengers are visible inside. Ferrara and White enter the garage.
He pushes her against the hood, slapping her and choking her dominantly. Ripping her shirt, he pulls her gorgeous breasts out, and slaps her. She pleads plaintively. He manhandles her throat. She undoes his pants and strokes his cock. When she tries to suck it, he slaps her, demanding obedience. She complies, mewling, "Yes sir," then makes out with him as her hands pump his cock. "Please let me taste it, please, please, please! Whatever you want," she says, sucking his dick vigorously. He looks down with disdain. The black and white checkerboard floor reflects on the car door. Her tongue swirls around his member, as she slows down. Her breasts and the pearl necklace bounce while she deepthroats. She gargles him as he cusses at her and pounds her face. He titty fucks her and she holds her ample breasts up, flapping them on his cock.
He flips her around, slaps her ass, pulls her panties down and fucks her from behind on the hood. "Oh fuck!" she screams. Her headlights, and those of the car, gleam as he lifts her up and shoves her against a locked chest, resuming his doggie style fucking. She cries delightedly, "Yes, take that pussy, it's yours! Thank you so much for fucking me. Thank you so much! Thank you! Oh my god, thank you. Fuck, yes, yes, yes! Take me." Her dirty talk is definitely one of the highlights of the scene.
He grabs her hair and the camera rightfully lingers on her floppy tits. She kneels and sucks him off, with plenty of ball swallowing to spare. She leans back on the chest as he titty fucks her again, her tongue lolling out, hoping for a drop. "I want everything," she says. She gets down and crawls like a dog.
He whistles, commanding her to stay, and out of the car four men in ties and dress pants open the doors to offer their cocks for a blowbang. After several minutes of dick sucking and jerking, White sees Ferrara return, offering his dick as a fifth one for her to service. She frequently juggles her tits to keep the men aroused. The dicks congregate on her face, slapping her. Mascara runs down her eyes. Ferrara demands she jerk them off and she stands, crying, "Yes, for you Manuel, yes!" The men back off and Ferrara lays her down for missionary on the storage chest, fucking her in the vadge as the group closes in again, offering their cocks for sucking and jerking. The men cum on her face as Ferrara continues fucking her. She blows cum bubbles from her mouth. Finally, as she gets on her knees, Ferrara jerks himself off to completion, all over her open mouth and tits. She marvels at the thick splooge covering her. The camera pans away as White rubs the jizz all over her body.
After the camera goes black, scene four opens with black and white footage of Kross performing in what appears to be an actual strip club, bills thrown at her and civilian faces blurred out. Then, it cuts to a darkly silhouetted Jillian Janson in black and red lingerie, writhing up and down, before switching back to Kross, who is now stripping in solitude, with purplish blue panties, whipping her blonde hair around. Legs splayed, feet spinning, the ladies are elastic gymnasts.
The camera playfully follows their bodies, capturing them from dozens of angles, as they feel themselves up and a guitar strums devilishly. Ferrara becomes visible, sitting down and watching as Kross does a lap dance on him. He keeps his hands on his legs. She crawls on the floor seductively, pulling her legs up over her head and smoothly pulling her bottoms off. Naked except for her heels, picture-perfect Kross climbs Ferrara, stuffing her moist panties in his mouth, before hurling them aside. Ferrara tries to lean in, but she is in control, undoing his pants and licking his cock. Her hands play with him as she darts forth for a kiss, then her tongue circles his shaft before she brings it to her tits.
Several shots transition from her dancing against the mirror to slinking across the floor to spreading her legs in a hypnotic dance. Her panties back on, she teases him. Artfully shot, the light gorgeously wraps her in luminous ermine.
Hands cover Ferrara's eyes from behind, and the camera pans back to reveal it's Janson. She circles him, sticking her fabulous ass out for the viewer to drink in the crimson and black silk covering her. As Janson writhes on his lap, Kross appears, naked, to caress Ferrara. She playfully slaps Janson, who pulls her panties down. Kross kisses him and Janson brushes her hands across his hairy chest, teasing him with the feint of a kiss. The girls begin making out, casting flirty looks Ferrara's way. They rub each other's nipples. Ferrara tries reaching forward, but Janson swats his hand away. Kross fingers Janson slowly, and they both gaze at Ferrara. Janson sits on him, leaning back, as Kross kisses her and begins eating her out. Ferrara tries to go for a touch again, but Kross slaps his hand away. She stares hungrily at him as she licks Janson. Any time his hands wander too far, one of the women bat it away.
Kross fingers and licks Janson, prompting the starlet to open her red lips wide and flash her dazzling eyes coquettishly. Then, Kross lets Ferrara suck her fingers, so he can taste Janson, while the youth coos and encourages him to sup on her juices. Janson stands and Kross gets down on her knees to devour that delicious vadge. Kross locks eyes with Ferrara, fingering Janson, who asks, "Do you want to see me come?" Ferrara says, "Yes, come for me." Kross then lets Ferrara make out with her, before pushing his head back. She unzips his pants, letting his dick out. Janson fingers her from behind, swapping spit and lips. "Please," says Ferrara. "Do it." Kross acquiesces, stroking his cock.
Janson sucks her fingers, spinning webs of spit between them, fingering Kross and eliciting cries of delight. Kross then eats out Janson, as Ferrara jerks himself off. Returning, Kross leans forward, sucking Ferrara's cock whilst Janson fingers her from the back, crying out from the pleasure. She jerks him off to completion, her lips hovering over his cock, and Janson keeps pleasuring her. He releases into her mouth and she licks it happily off him, sharing the prize with Janson. Delicately, she zips him back up. "Time's up." The screen goes black. The word "Sacrosanct" rolls, followed by the cast list. At last, the vision quest is concluded.
Reflecting on this landmark title, it is clear that Kross has raised the bar for what it means to produce a vignette title, with such a painstakingly crafted masterpiece. And while consumers may demand copious amounts of gonzo and all-sex copulation, risk-taking productions like "Sacrosanct" (the title alone is magnificently audacious) uplift performers with the fully unfurled majesty inherent in their brazen sexuality — which, after all, feeds deep-seated hungers on a global level, offering private release for energies which would otherwise unleash all manner of hostility and death, were they pent up without the bliss that pornography doles out daily. They bear the stigmata cross of a scarlet letter stigma, all the while offering mankind more meaningful redemption than a church.
And with "Sacrosanct" as the harbinger of a wondrous renaissance for TrenchcoatX.com, which has continued pushing the envelope this year via a scarcely rivaled degree of artistic supremacy, Kross stands firmly as the preeminent vignette challenger, pivoting from gilded gravitas to light-hearted lust most deftly and daringly. In fact, that is precisely why "Sacrosanct" earned two 2018 XBIZ Awards nominations, in the insanely competitive categories of "Vignette Release of the Year" and "Best Sex Scene — Vignette Release" (for the opener with Jade). Kross is striking the ground with a gauntlet as bejeweled in decadence as it is strengthened by steel, enticing other dreamers to duel in an arena of absolute glory.
Synopsis:
Katrina Jade performs in a cuckold scene with mysterious hooded men on the lap of her real life partner. Honey Gold is lured into having sex with a stranger from the floor of a surrealover. Angela White is pulled back from the grasp of re-imagined sirens. Kayden Kross and Jillian Janson perform the ultimate tease in a grand champagne room after dark. TRENCHCOATx presents four hardcore stories made more erotic by their ties to real life.