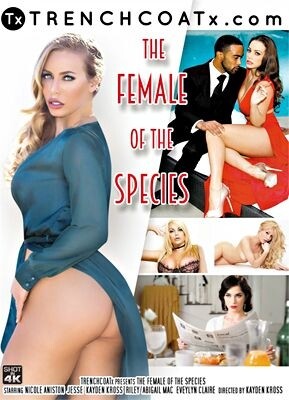 Kayden Kross knows exactly what she's doing when it comes to creating a mise en scène. She couples deliberate soft focus shots with an innate sense of composition, making "The Female of the Species" feel like a series of scenes from a mainstream movie. She showcases a number of clever filmmaking tricks, playing with everything from color to sound design: reversing shots of a woman smoking, for example, and blurring vocals when the main character is bored. Kross' affinity for playing with light is clear in every scene, from a hazily lit noir with Evelyn Clair to a room flooding Nicole Aniston with a bright morning glow. It made watching the title an exciting aesthetic experience in addition to a fucking hot one.
The film opens with glamor shots of Abigail Mac in a stunning red dress, her leg peeking out of the thigh-high slit. She walks down a hallway with Stallion Strong to dramatic, swelling music and pulls him to the side to run her fingers up and down his suited body. He picks her up and buries himself in her chest as light dances across her face. They undress each other at a romantic pace, Mac meticulously undoing Strong's tie before getting to her knees.
His big cock springs out and Mac slips it into her mouth, having to use both hands to cover its entirety. After gingerly undoing her dress and rubbing himself against her, Strong slips himself inside of Mac. He takes a quick interlude to flip Mac around and eat her out, enthusiastically rubbing his face into her before once again putting his hard cock inside of her. The camera pulls in on their faces, contorting and moaning with pleasure. He flips her over and chokes her lightly as she whispers, "Fuck me" and jerks him off. Mac bucks as Strong stands up and lifts her up and onto his cock, bracing her with his strong arms. After coming on her chest Strong goes in for more, fucking Mac from behind as come streams down her chest. The scene culminates with Strong coming again, this time on Mac's face and into her open mouth.
The next scene opens with Nicole Aniston lounging in bed, reading and casually holding a glass of champagne as a half-lit cigarette fumes in the foreground. She sweeps her silk dress to the side before taking a long drink from the flute and readjusting herself amongst the sheets. A man, Bambino, stands guard in the corner as someone else brings her a pile of papers to sign. Bored, Aniston completes the task before eyeing Bambino and brushing aside her dress.
Bambino takes the hint and walks over, sliding his hands over Aniston's face and taut nipples. She turns to him and undoes his belt, sliding a well-manicured hand over the bulge in his pants. He grabs her ass and the camera gives us a glimpse of Aniston's swollen pussy. A master of multitasking, she bends down and sucks his thick dick while taking off her sparkly heels. She slips a hand around his balls, cupping them gently as she plays with the tip of his cock's head. The camera focuses on her pussy as she gyrates up and down on the bed, her hips begging for Bambino. And he delivers, slipping himself in and out of Aniston until she can't help but moan into the pillows.
After a brief dick-sucking and — fucking interlude, Aniston flips herself over and onto Bambino's face, spitting on his dick and sliding her pretty mouth onto his big, uncut cock. He fucks her until he explodes, dripping come onto her pussy as she grabs her tits. They kiss and hold one another until the scene fades.
The scene shifts to a brightly lit breakfast table where Manuel Ferrara and Evelyn Claire are seated. She's divine in '20s makeup, pearls running down her alabaster décolletage. The scene cuts back and forth from Claire stripping down to her flapper fineries and her dancing and gyrating in a fringed dress. Ferrara is clearly distracted by thoughts of Claire rubbing his chest and feeling her clit while filled up with a toy. The entire thing is filmed like a hectic, hazy memory where it's unclear what's real and what's Ferrara's imagination. (It plays almost like an erotic version of "The Neon Demon," though with less murder.) Claire's pussy is silhouetted against a color-changing background as she dances back and forth.
The image jumps to Ferrara and Claire kissing, with him jerking her off in a dimly lit car, pushing against her black corset and gartered panties. He dives down into her pussy as she whimpers and presses her legs into his face. Her lipstick smeared across her face, Claire comes and slides down onto Ferrara's uncircumcised cock. She takes it into her mouth, licking the sides and swallowing inches like a champion. Then she hops on top of him as the camera focuses on her lit thigh pressing into his, her hips grinding against his dick. They watch each other play with themselves, Claire slowly slipping a finger — and then two — inside of her wet opening. They fuck until Claire slips off and slides her mouth onto him, sucking up his come and licking the rest off of his balls.
The last scene of the bunch opens with Kayden Kross, Riley Steele and Jesse Jane on set. They're quickly joined by Manuel Ferrara playing Steele's excitable fiancé who grabs her and swoops her into a leaning kiss. The second Steele leaves, Ferrara jumps on Kross instead, kissing her passionately. The two stare into one another's eyes, a passionate moment before the big show really begins. Outside two men try to make their way into the shoot, but the camera quickly cuts back to Ferrara, who is busy coming into Kross's pretty little mouth. She stares up at him while slipping his throbbing, uncut cock between her lips. The shoot ends when the power goes off, and Jane laments that she's "not ready for it to be over."
Steele isn't having it; she's going to perform no matter what the circumstances are — after all, she's a professional. "Light it with a flashlight! If this is our last show, we're going out on our own terms," the feisty blonde insists. After flashlights are handed out, the girls get to it: Kross and Jane kiss on the couch while Steele rubs her pussy from the floor. She takes off Kross' panties and the three strip while moaning and rubbing one another's wet cunts. Steele puts her fingers inside of Jane, who moans and bucks against her hand. The girls roll around, stroking each others' pussies and assholes while the men on the crew watch and masturbate. Kross gets on her knees and puts her face against Jane's crotch, licking up and down her lips and torso. The three line up, eating one another's pussies as a crewmember comes hard in the background and the camera fades to black.
Synopsis:
The sisters reunite one last time! Kayden Kross, Jesse (formerly Jesse Jane) and Riley (formerly Riley Steele) have one more tryst on their terms.

The Female of the Species glorifies the concept of the predatory woman. Smart, sensual and calculated in her movements, she is the visual ideal of pillowy lips and thighs that could kill you in their grip.