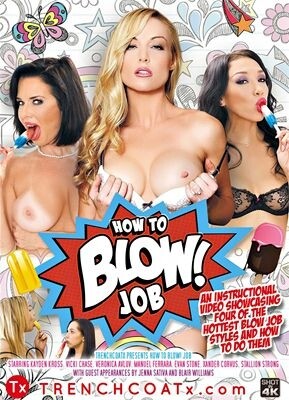 Finally, an original blowjob movie. It's loaded with humor, expert advice, technical tips — and fantastic cocksucking, all of which will prove informative and arousing to both women and men.
Kayden Kross, in a white smock, guides the viewer through the dos and don'ts of oral sex. Her mission, she says, is to combat BBC: "the persistent believe that the blowjob you are giving is not good enough." Symptoms include "lockjaw, discomfort in the presence of popsicles, total abstinence." What can help? Men.
She outlines The Ten Blowjob Commandments, including "Honor the Shaft and the Head," points out levels of wetness, tightness and tongue action, and warns about deepthroating (it's not for everyone). "There are lots of wrong ways but right ways too..." Kayden shows us four of them.
The Girlfriend Blowjob: "It's a gift." Kayden herself demonstrates on Manuel Ferrara, her significant other, as humorous pop-up captions enliven the mix.
The Pro Blowjob. Only comes from massive experience. Veronica Avluv, "our friendly neighborhood dick sucker," swallows the big black dick of Stallion Strong. Very provocative shaft sucking and ball licking.
The Sloppy Blowjob. Blowjobber Vicki Chase goes down on Xander Corvus while imparting useful tidbits, like how to "generate more spit ... the wetter, the better."
The Dream Blowjob. Two women, one dick. It's so called because "it will likely only happen in your dreams." Veronica and Vicki — two mouths and four hands — go to work on Evan Stone with very pleasurable results.
Synopsis:
An instructional video showcasing four of the hottest blow job styles and how to do them.