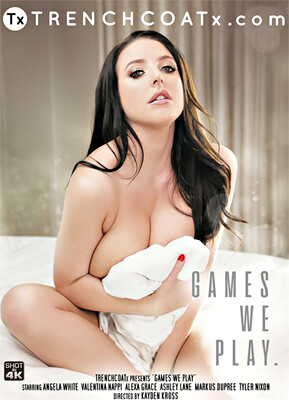 Kayden Kross nails it with "Who's Becky?" — an amazing scene with two scorching adult stars. Angela White checks out the phone of lover Markus Dupree as he dozes, still in evening wear. She doesn't like what she finds. "Who's Becky?" she screams, jolting him awake. It's the start of an epic lovers quarrel, a battle royal. Angela is truly obsessed. "You're mine, you're mine!" she cries. Markus, in full powerfuck mode, slides from her pussy into her ass, gapes her anus, and it's still not enough for Angela. Exceptionally well staged and performed, with a feeling of real intimacy and passion. Beyond volcanic.
The other three vignettes are also stellar affairs, rivaling that first scene for passionate chemistry. Ashley Lane gets teased by Tyler Nixon and figures, "Two can play at this game." She ties his hands behind his back and he seems powerless, able only to accept pleasure. Finally he's free to eat and penetrate her and it's her turn to moan.
Valentine Nappi checks into a hotel room with Manuel Ferrara (non-sex cameo) but really wants the young waiter, Nixon again. She gets him as hubby Manuel spies from behind a curtain — he's fine with it. She pulls off Tyler's pants and rides him cowgirl, looking gorgeous. When he fucks her anally she loves it even more.
Dupree returns as a math professor seduced by student Alexa Grace. He tells her he's married, that he could lose his job, but he can't resist. Alexa is pretty much irresistible. He fucks her from behind, leaning against the board, then on her back on his desk. Another intense scene, convincingly mounted and edited.
Synopsis:
Games We Play, Directed by Kayden Kross, is a collection of vignettes played out between characters whose relationship is revealed to be a twisted game of sex and obsession. Each unfolds in layers of attraction and frustration as the couples fall into the dynamics that promises to keep pulling them back together.