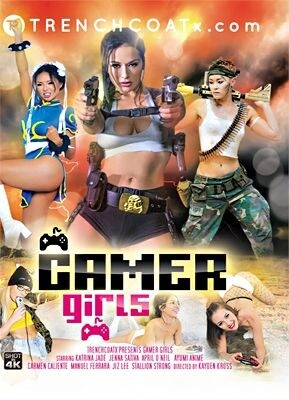 Katrina Jade appears in an awesome-looking cosplay of Tomb Raider sex icon Lara Croft, scoring the DVD box cover, guns drawn and all, in this gamer-centric XXX title, which includes two girl-girl scenes and two quite horny boy-girl sequences, with both Carmen Caliente and Jade reaching a tie as far as arousing sperm-formances with the hired hoses.
Tasty female morsel Jenna Sativa — who looks so, so scrumptious bent over with black fishnets framing her awesomely juicy booty — gets down with Asian cutie Ayumi Anime, and then Jiz Lee, as a badass video game soldier-come-to-life gets it on with April O'Neil. Each of the ladies show off how adept they are at chowing down on muff, with fiery results.
But the more X-hilarating "gamer" episodes are definitely the two featuring girls who suck and fuck c-o-c-k. For starters, I can never get enough o' Latina babe Carmen Caliente, here flaunting short hair and her amazingly taut spinner's body as she gets down with Manuel Ferrara. I loved every single position in which she and MF engaged, particularly doggie. And isn't it marvelous when our Mannish boy sticks his finger up Caliente's tight (and, surely, muy caliente!) lil' culo? I wanna see more o' cute 'n' carnal Carmen!
The other wankin' winner of a scene has the always welcome Katrina Jade, who seduces her black boyfriend, in the form of Stallion Strong, to bang the brains outta her, which he successfully does. Highlights with Katrina including an as-usual rockin' deepthroat (to the base/bone!), nice gyrating action with her delicious all-natural boobies, and some incredible cowgirl, during which her scrumptiously firm but gelatin-like butt cheeks circulate like mad, as this scorching ho' knows how to ride rod!
"Gamer Girls" is absolutely worth checking out for the slutty antics (oral and vaginal!) of both Carmen and Katrina, with whom you (and yer prick-a-roo!) will not be disappointed, not to mention the nerd-gasmic themes in play.
Synopsis:
TrenchcoatX.com's Gamer Girls is a collection of fun and fantastic vignette scenes featuring cosplay, fantasy scenarios, and real life gamers.